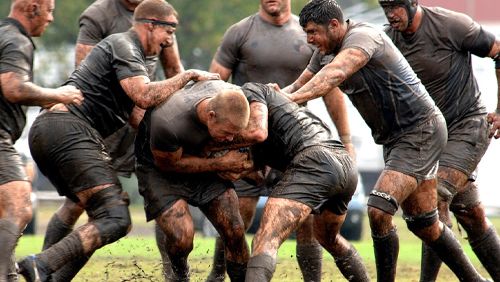 The rumours have gathered some strong momentum out of New Zealand that the All Blacks are interested in taking on Australia's Kangaroos. A cross-code clash between the two superpowers of rugby league and rugby union is now a distinct possibility.
The COVID-19 pandemic has left both codes scrambling for financial survival and a proposed December clash would generate global interest. The New Zealand Rugby Union is warming to the idea of a one-off, 14-man hybrid clash.
Australian Rugby League coach Mal Meninga believes there would be genuine interest from the Australian players to take part, while media reports out of New Zealand confirmed that NZ Rugby boss Mark Robinson had commenced secret negotiations with his Australian Rugby League counterparts.
Australian coach Meninga was excited by the possibility of going up against New Zealand's national treasure:
"This would take the Kangaroos to the world. There will be global recognition. "We are still in talks but obviously news of this has got out. I'm keen to make this happen. We want to play the All Blacks, hopefully, we can get the concept off the ground. The best from our game versus the best from the New Zealand game … let's do it."
The potential blockbuster would take place three weeks after the final State of Origin game, with major venues in Sydney, Brisbane and Perth all in the running to host the event.
New Zealand Rugby Chief Executive Mark Robinson remains open to the idea, with both codes struggling financially:
"But we've had the option put to us of this hybrid game with the Kangaroos, and it's one of many different scenarios in a unique year like this that we are considering with being innovative and having a focus on trying to consider revenue-generating ideas at this time."
Cross-code events have rarely happened between the two sports, with Wigan and Bath playing a two-match series in 1996, each side winning one game apiece.
Australian sport has flourished during the pandemic with rugby league and rugby union both being able to draw live crowds in Australia and New Zealand. A short-term financial hit could be the tonic to pull both codes out of a rocky 2020.