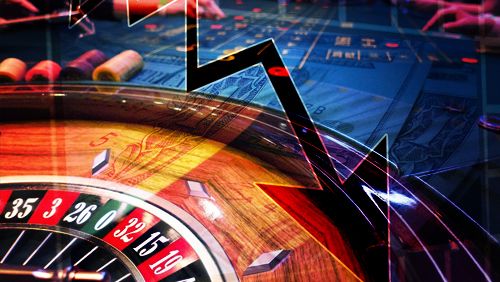 At the beginning of the year, things were looking great for the Asia-Pacific (APAC) gambling market. A report showed how it was the fastest-growing market in the world, with a steady increase in gross gaming yield from 2001 through 2019. The trend was forecast to continue non-stop for the next decade, but the coronavirus had other plans. While it's undoubtedly just a temporary glitch and recovery will be possible, 2020 is now expected to find the APAC casinos reporting an aggregate 70% decline in EBITDA (earnings before interest, taxes, depreciation and amortization) over the 2019 figures, according to a report just released by Moody's Investor Services. Next year may not be too much better, either.
The ratings agency dove into the different mechanisms that keep the casino industry turning, breaking down the impact COVID-19 has had on international travel and gambling venue closures. Taking into account social distancing orders that are prevalent across the entire industry, the reduction in the number of available gaming options and customers paints a bleak picture. Moody's asserts, We assume the earnings recovery will start in the second half of 2020, following a very weak first half. Still, earnings in 2021 will be lower than in previous years. Downside risks to our forecasts are significant, particularly if the pandemic is not contained and lockdowns have to be reinstated."
Dissecting the APAC gambling activity as a whole and the performance of operators like Crown Resorts, Genting Singapore, Las Vegas Sands, Melco Resorts, MGM Resorts International, Wynn Resort and more, all of whom have a presence in Asia, Moody's was able to deduce where the industry stands and where it's headed. They're all struggling to pick up lost revenue, which, combined, makes for a huge loss, but should be able to bounce back with time. According to Moody's, "These companies have sufficient cash equivalents and committed facilities to withstand temporary cash burn, which includes operating expenses, interest payments and maintenance capital spending, as well as meet their debt repayments in 2020."
In real terms, the loss means the APAC casino industry will go from an EBITDA of $14.5 million last year to only $4 billion this year. If COVID-19 pops back up and APAC casinos close down again, like has been seen in a few areas in the U.S., then the figures could be much worse. 2021 won't bring a lot of relief, with the casino industry needing at least through the end of next year to mount a resurgence. A spike in coronavirus cases is still a possibility, and the risk of further revenue declines is "significant, particularly if the pandemic is not contained and lockdowns have to be reinstated," according to Moody's.
In the U.S., casinos across the mid- and southwest began reopening between May and June. However, since then, there have been several new COVID-19 spikes, some of which have involved casino employees. Because of this, a handful of casinos in Arizona and Oklahoma have decided to close down once more. If the same scenario plays out in APAC, the results are likely to be catastrophic for the gaming industry in the region.