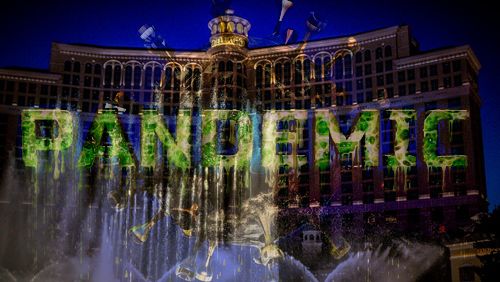 With the Covid-19 pandemic still far from being over, reopening economies was more of a concession to keeping the economy alive than any declaration that the world was safe to do business again. With that in mind, you had to expect there would be some hurdles to returning to a full sense of normalcy. MGM Resorts are the perfect example of that, as the Bellagio's Mayfair Supper Club has had to close once again due to an employee testing positive for the virus.
The resort operator announced on June 18 that a kitchen worker had tested positive that afternoon. The restaurant had closed out of precaution on June 14, and there's no timetable for when it will reopen.
While other restaurant employees, and even other resort workers may have caught the virus, the full scale of this new cluster may not be known for a while. "It takes close to three weeks until we see the (positive) cases show up in our system," said Brian Labus, a member of Nevada Governor Steve Sisolak's medical advisory team and an epidemiologist at UNLV. "The incubation period (for COVID-19) is up to two weeks. Then, it takes a few days before people get tested."
He further added that it was impossible to expect Las Vegas Casinos, with their many employees, to reopen with no new cases found. The workforce is simply too large, and with Covid-19 cases still increasing, there's a very good chance the virus will spread inside the resorts.
"As the disease goes up in the community, there will be more workers and patrons in the casino and its facilities who are infected and potentially transmitting the disease," Robert Jackler, a professor and researcher at the Stanford University School of Medicine, said.
But on the right side, Jackler noted that it's possible the virus was contracted outside of the resort, and not spread there. "The risk of spreading the disease exists in the workplace, of course, but also in the community at home, while shopping, dining out, socializing, protesting," he said.
Ultimately though, Jackler was critical of the steps resorts have yet to take to keep customers safe. By banning smoking, patrons are less likely to touch their face, and less likely to catch Covid-19. "It's probably in the best interest for casinos because it'll make them safer with fewer risks of transmission," he said.
But as Vegas has reopened, most people are looking to the future and hoping the city stays open. The Global Gaming Expo/ (G2E) Las Vegas expects to be held without any issues, according to the event's organizers, and will push ahead on October 5-8, 2020. They note that they will follow all health precautions and things could change though, if the situation changes.