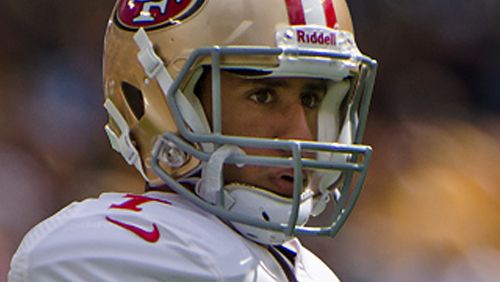 The possibility of Colin Kaepernick returning to the NFL has been a source of much debate in the United States over the past month, but never has that discourse been as fevered as in the past 24 hours.
The former San Francisco 49ers quarterback, who has been without a team for nearly four years, has been touted to make a long-awaited return to the NFL in the wake of the recent Black Lives Matter debate, which has centred around the killing of George Floyd.
In the past 24 hours, President Donald Trump was asked about Kaepernick returning to NFL action and said that "If he deserves it, he should. If he has the playing ability." In reference to Kaepernick's form before his NFL exit in 2016, Trump said: "His playing wasn't up to snuff."
Quite apart from the fact that Donald Trump's worries over Kaepernick's standard of play count for about as much as a vegetarian's restaurant review of an all-you-can-eat steakhouse, Trump's less-than-glowing recommendation that the former 49er returns to football sounds borne of fear more than anything else. Roger Goodell, NFL commissioner told ESPN on Monday that "if Kaepernick] wants to resume his career in the NFL, then obviously it's going to take a team to make that decision, but I welcome that, support a club making that decision and encourage them to do that."
More than a little bit more positive. So who could Kapernick sign for? The bookies currently have Kaepernick as a +275 to sign for anyone, now aged 32. He's a big favourite not to return to NFL at -450, but if he does come back, who are the favourites?
Current Colin Kaepernick Next Club Odds (courtesy of www.oddsshark.com)
Baltimore Ravens +225
Seattle Seahawks +275
Houston Texans +400
Los Angeles Chargers +450
Kansas City Chiefs +600
Jacksonville Jaguars +750
Minnesota Vikings +800
Tennessee Titans +1000
Philadelphia Eagles +1200
As you can see, the Minnesota Vikings, who we wrote about last week as being the symbolic choice, given that is the state in which George Floyd lost his life, are not favourites at +800. The Baltimore Ravens are favourites to land Kaepernick's signature, with the Seattle Seahawks, who certainly have the space on the roster for a quarterback of his reputation.
While Kaepernick's best years on the football field are doubtless behind him, that doesn't mean that the level he is at right now wouldn't be of huge benefit to a team such as the Ravens or Seahawks. It's not just on the pitch that matters, either. For all the talk of the need for racial equality and black athletes in managerial positions, the action needs to replace the talking at some point. Why not make Kaepernick an example if you're an NFL Club – offer him a way back not only to the pitch, but then into the hierarchy of the National Football so that a black sportman can make real change?
Kaepernick himself sounds ready, telling reporters recently that he has been "prepared for three years. I've been denied for three years and you all know why. I've been ready. I'm staying ready."
Colin Kaepernick is ready for a return to the NFL, but perhaps the more important question across many levels is whether the NFL is ready for Colin Kaepernick.