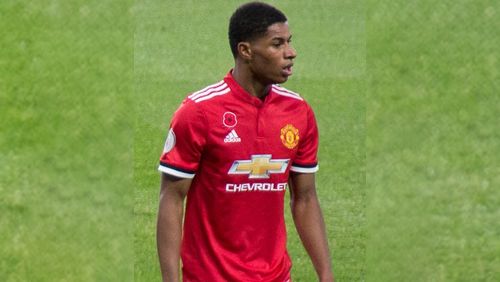 Over the last week, Marcus Rashford's odds to win the traditional yearly award, the Sports Personality of the Year (SPOTY) have tumbled from 80/1 to a best-price of 3/1.
Tyson Fury (6/4)
Despite expressing controversial views about many aspects of society, the man who became Heavyweight Champion of the world by defeating Deontay Wilder is still the favourite to win Sports Personality of the Year.
Fury has bounced back from personal troubles and drug use in a high-profile sport and won the belt he wanted. But with an all-British unification bout for the heavyweight belts not happening until 2021, can Fury really win for dominating the headlines for a brief albeit significant period of the year? We'd take a knee on it.
Marcus Rashford (3/1)
Somehow still available at 3/1, Rashford has achieved what some said was impossible over the threat to children's free school meals during the hiatus between school years. The United and England striker sent an open letter to the British Government and then announced it on Twitter to his millions of followers:
An Open Letter to all MPs in Parliament…#maketheUturn

Please retweet and tag your local MPs pic.twitter.com/GXuUxFJdcv

— Marcus Rashford (@MarcusRashford) June 14, 2020
Following a huge public swell of opinion putting pressure on individual government ministers, change was announced, as Rashford's proposal to keep every child able to find a meal during this difficult period was adopted by the powers that be. Back of the net! 
I don't even know what to say.
Just look at what we can do when we come together, THIS is England in 2020.

— Marcus Rashford (@MarcusRashford) June 16, 2020
With a massive feelgood factor to Rashford's passionate advocation of charities helping the NHS including the Players Together movement, his backing for the #BlackLivesMatter and now keeping children fed, short of curing cancer, it's hard to think what else Rashford can do to lock up favourite status. You won't get 3/1 nearer the time and we'd say take him now in the betting stakes.
Captain Tom Moore 9/1
Having walked round his garden, Tom Moore, former Army captain, raised over £20 million for the NHS. Despite or because of this, he's only available at 9/1 with one bookmaker, but not because they won't take your money.
Moore is an outside shot and if anything feels like a pacesetter in this race, ironically. A placeholder for novelty bets, he's done an amazing thing yet in betting terms, he's a little like the army wives song that kicks off the Xmas Number One betting; you know it won't win, but it gets you looking at the list.
Jordan Henderson 10/1
The Liverpool and England midfielder was allegedly the leading light behind Players Together, the charity movement behind raising money for the National Health Service. While he's a much shorter price to be announced as the PFA Player of the Year, he's in a totally different market here. 
We'd avoid Henderson on the basis that he's up against two other men in his own sport who should be a shorter price than him. He's likeable, has a great attitude and runs around with a terrific verve and obedience – sounding more like a candidate for Crufts rather than SPOTY.
Lewis Hamilton 14/1
The Formula 1 ace is rumoured to be all for taking the knee in a tribute to George Floyd the next time he's on a racetrack. If he does, expect these odds to shorten, but we'd still give him a swerve like he might his rivals in his F1 vehicle.
While Hamilton sounds overpriced, his perceived lack of personality in some quarters has contributed to his good deeds being overshadowed. It's a pity that perception exists, but he seems blighted by it in betting terms.
Joe Wicks 25/1
The Essex health and fitness guru has revolutionized home schooling for many parents, with his daily workout sessions from 9.00am to 9.30am bringing thousands of subscribers his way and with up to a million children taking part and getting healthy thanks to him.
The hard-working foodie and fitness man has even donated all the profits he's received from advertising during the sessions to the NHS. Possibly an outsider, but still a phenomenal achievement.
Raheem Sterling 150/1
It really is very difficult to see why Raheem Sterling is at 150/1 in the betting market for this award. Polite, humble and passionate about achieving racial equality, the Manchester City and England wing-forward is an inspiration to millions of young footballers and his recent words around the #BlackLivesMatter movement moved us and convinced thousands to listen up when the world was crying out for more voices to speak up and move the game forward. Already a hero to many, his achievements on and off the pitch this year surely see him massive value at 150/1. Worth an outside bet.