The COVID-19 pandemic has been a huge challenge in so many ways. Personal health, and the capacity of our health care systems, have been tested. The economy is facing a test it has never seen before. Just as importantly, the psychological health of everyone has come to a test that it rarely does in the history of humankind. To understand what we're all going through, and how we can come out from it as better people, Dr. Agne Matulaitė joined our Becky Liggero Fontana on the latest episode of The Long Con.
Perhaps the scariest part of this pandemic, psychologically, is not knowing what will come next. "Most of the population like to feel the feeling in control, sure what's going to be next, yeah I am making decision about my finances, I'm making sure my holidays," Matulaitė said. "So this is, basically it taps into these fears."
But as with anything in the news that causes anxiety, Matulaitė had some simple advice. "Actually you need to learn how to switch it off, and that silence is deadening as well because something might be happening," she said. "It's really very important to minimize the effect, and the effect in our consciousness be minimized by actually doing, how to say, distancing ourselves from the news."
Easier said than done, so she shared how we can stay on top of what's important to know, while minimizing the psychological effects. "It's much better to read it in written format, calm format, and it is possible as in a small possible spaces as your eyes can be able to read so it's not overpowering physically," she said, while adding that we should only worry about that which we can do something about. "Always have everyday something I can control and remember that there are some things I can't control, and really pay attention to something but I can control."
Liggero Fontana asked how leaders of online gaming companies can adapt to the psychological needs of their employees. "We see on the news different examples, there are leaders who seems to be aiming to calm people down but basically, they being as vague as possible, and that doesn't calm," she said. "What happens then, you stop trusting them and you lose the authority…Others go to the extreme and say, business really don't know how to deal with it, we don't have any anything ready, you know, panic is rising."
The simplest advice is to be real with your teams, and not trying to either sugarcoat the situation, or heighten anxieties. "You have really to connect, first of all I think as a leader to speak with people as heart to heart."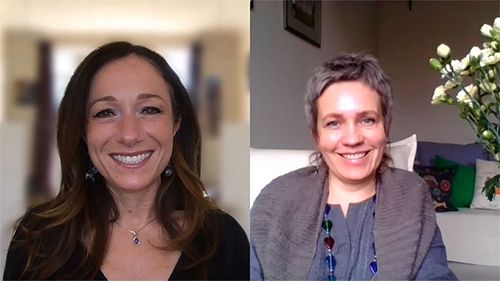 On the positive side, Matulaitė noted that many people are using this time to reconnect with what matters. "People are learning, you know, definitely they can now choose what people they want to communicate with and perhaps people they could say actually goodbye to," she said. "Some people, you know are saying that actually they've been so busy being human doers they forgot that they are human beings, you know the word which should apply to us."
But before we take too many lessons from this situation, Matulaitė cautioned that it may take some time before we fully comprehend how these months have affected us. "Probably we still don't understand it," she said. "It takes some time they need to reflect, so after this is going to finish, probably to take us a year or so to understand what was actually was going on."
Matulaitė speaks at length on all of the topics mentioned above, providing examples of how leaders can succeed, how we can feel more in control, and the ways which we will be better people as a result. Check out the entire video above to see the entire thoughtful discussion, and subscribe to the CalvinAyre.com YouTube channel.