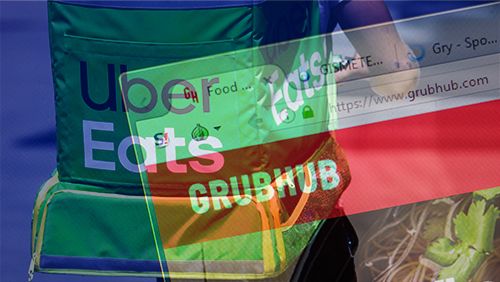 People need to eat, like literally every day, but the wife's meatloaf gets tired after two months of shelter in place orders. You might think that would mean food delivery services would be thriving in this time of pandemic, but reports are indicating that the sectors business model is proving to be badly unsustainable right when it should be thriving.
Uber, which operated Uber Eats, has recently cut 3,000 jobs, and CEO Dara Khosrowshahi admitted that the vertical is both growing and losing money. That division of the company is losing $3.36 on every order, and at best, may not become profitable for the next five years.
At the same time, Uber is looking to merge with its competitor GrubHub. While arguing that the merger wouldn't create a monopoly, the CEO argued it was necessary to the future of the industry. "The thing is, no one's really making money in this business," Khosrowshahi has said. "So the business itself has to be sustainable, and it has to be sustainable in a way that works for restaurants, works for couriers, and works for people who are ordering the food and it works for business, as well. So things are going to change. And we'll definitely listen to the opinions of regulators."
GrubHub, in a letter to their shareholders, admitted though that the economies of scale don't really help a food delivery business, as the costs simply add up to too much:
"Bottom line is that you need to pay someone enough money to drive to the restaurant, pick up food and drive it to a diner. That takes time and drivers need to be appropriately paid for their time or they will find another opportunity. At some point, delivery drones and robots may reduce the cost of fulfillment, but it will be a long time before the capital costs and ongoing operating expenses are less than the cost of paying someone for 30-45 minutes of their time."
The other major players in the space, DoorDash and Postmates are also still likely running at a loss, with $450 million of red for the former in 2019. Amazon got out of the market entirely by closing down Amazon Restaurants Delivery, but restarted an Amazon Food service in Bangalore in the last few weeks, hoping the pandemic might mean new opportunities maybe?
What all of this comes down to is that the gig economy might simply not work for food delivery until the middle man, the delivery driver, can be cut out. It could be a great investment for the future of drones and driverless vehicles (I could die for a drone gyro right now), but it looks like a loser right now.
And that's particularly true because of the high fees apps like UberEats and GrubHub charge. Restaurants are already on the verge of failing due to the pandemic, and the fees these services charge to the restaurant are crushing them when the only services they can provide are takeout and delivery. It's gotten to the point where New York City has put a cap on these fees to protect the restaurants, a move which Bloomberg has argued will kill the already struggling gig food delivery sector entirely if other cities follow suit.
So then what choice is there? If restaurants can't pack their physical locations with customers for the foreseeable future, they'll need delivery services. But if delivery fees eat into their profits, they'll close, and the delivery services will suffer as well. And if the fees are capped, the delivery services will lose even more money and likely close as a result.
I haven't heard of a gyro delivering drone yet, so maybe stay away from investing in this sector for the foreseeable future.