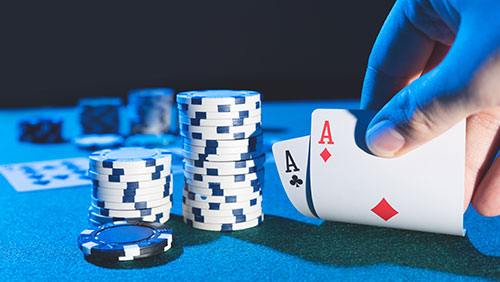 Missing your friends playing poker at your home game on a Friday night? It's a common enough feeling during the Coronavirus crisis, but while the options have been limited to Zoom conference calls, playing online poker or attending the few casinos that are open and shuffling up behind Perspex screens, players have missed the interactive spirit of the game.
A new choice is available to social gamers courtesy of FlowPlay, who have launched 'Live Game Night', a new online game video service that offers a more realistic experience which according to its makers will make you feel like you're sitting at the same table not just sitting on your phone hoping that the blurring you see in your opponent's eyes isn't just a dropped WiFi signal.
FlowPlay have previously served both customers and business with free-to-play mobile experiences, but at present, Live Game Night is only available for desktop players. Still, to see all your buddies in all their glory, that might be the easiest way with multiple screens on view on yours. With an extensive multiplayer infrastructure, industry-leading monetization rates and proven track record, FlowPlay believe they are the best company to bring Live Game night to social poker players and other gamers looking for a new game to enjoy.
FlowPlay's Chief Executive Officer, Derrick Morton, has spoken of the benefits of social gaming in these particular times.
"Online games are so much more than entertainment," Says Morton. "They are an escape from today's uncertain times, a means for keeping in touch with old friends and a place to create new ones."
The social element is one that really reaches out to those suffering from loneliness in these strange times.
"Everyone misses poker night, and trivia night with their friends, family and neighbors." Morton continues. "With Live Game Night, we wanted to mirror real life as much as possible to start giving people back some of their favorite social experiences. We're confident our technology will help our players feel like they're staring at a poker face across the table – not across a screen."
To take part, players need to register with FlowPlay on the official website, then either start or join a Live Game Night. The host can invite up to five friends, meaning it's six-max action at a maximum, but it doesn't have to be a full party if you don't want it to be. With 65% of Americans living in lockdown and the app likely to be on mobile devices before very long, this innovative way of bringing more people together to play poker will be popular with many social gamers.
FlowPlay have contributed a lot to charity recently, having set up a page on their Vegas World game – which has seen a recent rise in visitors itself – to donate to American Cancer Society (ACS)'s Hope Lodge program, which has provided rooms for health care professionals between shifts during the COVID-19 crisis and so far raised $100,000.
Next time you think about organizing a fun meet-up online or conference call poker game, you might want to make it a Live Game Night kind of evening.