No one could have predicted that a microscopic bug would ever be more powerful than the entire global sports community, but the coronavirus has proven to be an adversary of unlimited strength. All companies that were entrenched in the gaming and sports worlds are finding it difficult to survive as everyone is forced to stay indoors, but, fortunately, there is some relief coming as major sports leagues start to announce their return to the field. While sports media companies welcome the news and are looking forward to getting back into the action, others used the downtime to create novel solutions to keep operations going. Bleacher Report was one of these and the sports broadcaster has seen overwhelming success with a novel initiative that is going to rewrite the sports media playbook.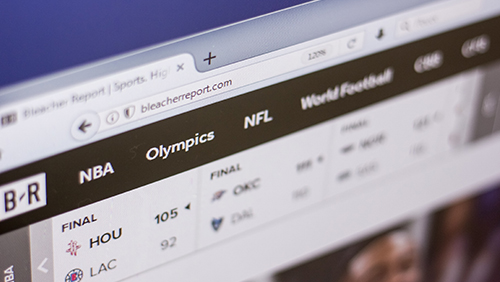 Without warning this past March, virtually all sports suddenly went dark as leagues implemented policies to help control the spread of the coronavirus. From literally one day to the next, sports broadcasters suddenly found themselves precariously dangling from the edge of a cliff, with virtually all revenue sources cut off. Bleacher Report has been the exception, though, and has already had over one billion views of its video offerings this month – the third month in a row that it has topped the ten-figure mark.
Ready to capitalize on the popularity, the sports media outlet is going to bring a new feature to its app. It is beginning to test the use of livestreaming, with the first test having been run in conjunction with the NFL Draft last month. That already proved to be highly successful, with hosts Adam Lefkoe, Connor Rogers and Matt Miller leading to 12 million video plays of the three days of draft action. To put things in perspective, this represents a 300% increase over what had been seen for the 2019 NFL Draft.
Livestreaming was on Bleacher Report's radar, but not for such a sudden rollout. The company has been working on a new production studio in New York that would be operated by around 70 employees, but the studio was forced to take a break, just like everyone else, because of COVID-19. With the presence of the pandemic, the company wasn't willing to let a good idea go to waste, and figured out how to make the live broadcasts possible remotely.
According to Bleacher Report CEO Howard Mittman, "In 2020, there's no shortage of places to watch live video but what we're doing provides a companion experience for a broader and sometimes complementary experience to what modern sports fans need from a live broadcast. When live sports return it's going to help not hurt the momentum we've built in recent months because we're the only sports media company that has the rights with major leagues like the NFL and the NBA but we also have content that allows us to be relevant to fans without match highlights."
Soon, the Bleacher Report app is going to be everything a sports fan (and sports gambling fan) wants. It has the ability to become an all-inclusive mobile solution for the sports world, which is the direction anyone working in the gaming industry needs to head.