We live in an era where three men – Rafael Nadal, Roger Federer and Novak Djokovic are rewriting tennis history as they dominate the sport in a manner that is completely unprecedented. Between the trio, they have won 56 Grand Slam titles. Yet there was a time where three other men might well have done the same.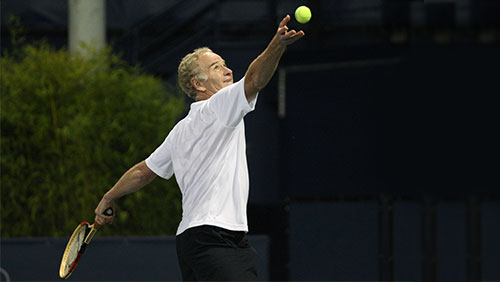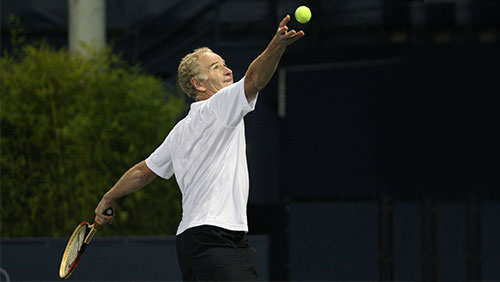 Two Americans – Jimmy Connors and John McEnroe – and one Swede, the eponymous Björn Borg, were constantly in the limelight as the 1970's gave way to the 1980's. In total, they won 26 Grand Slam titles between them, but it may have been so many more. This week, we look at why Björn Borg walked away from the game when he was at his untouchable best.
We look at the feats of messrs Djokovic, Nadal and Federer so commonly that it would be feasible to imagine that no other records existed before they came along, or still exist despite their recent dominance of the sport. John McEnroe, however, was one man who created history that still resonates on the ATP tour to this day. Winning seven Grand Slam titles, McEnroe also holds more records than you may be aware of.
For 20 years on the professional ATP Tour, John McEnroe carved out a period of success that, even now, seems scarcely believable. In the first 'golden years' of tennis, an era that produced such fearsome adversaries as Bjorn Borg and Jimmy Connors still saw 'Mack' win seven Grand Slams, four U.S. Open titles and three Wimbledon Men's Singles title. They were just the headlines of a stunning career which began in New York City.
Turning 60 on Sunday, McEnroe is now the face and voice of the sport in many ways, presenting and commentating on the world's biggest tennis tournaments around the world. An authority of tennis, a passionate proponent of the game has turned into the proprietor. The shop boy now runs the shop.
McEnroe, of course, did not start out nearly so mature. Often known as a 'brat', McEnroe was a volatile player prone to emotional outbursts and incredible moments of skill. McEnroe was both a singles player and doubles player, excelling at both, with his eventual record of 77 singles titles and 78 doubles titles still a record for the highest combined total at the top level of the game.
McEnroe won his first Grand Slam title in 1979, taking the U.S. Open Singles title at the age of just 20. He won the Men's Doubles title in the same week. It began a series of victories that drew the eyes of the sporting world to tennis, and in particular, the battle between the fiery and unpredictable McEnroe and the cold, calculated Swede, Bjorn Borg.
Together, McEnroe and Borg lit up summers for three glorious years, culminating in the two's greatest-ever battle in 1981. McEnroe's famous rant after one of his serves that clearly landed on the line was called out by the umpire has gone down in history:
While McEnroe was livid – and quite rightly, the chalk indeed having flown up as his serve landed plum on the line – he pulled himself together to win Wimbledon and effectively retire his opponent, Borg never really recovering from the devastating loss.
McEnroe was to have his own 'never go back' moment, though the blast would take a while to hit. In 1984, McEnroe won 82 out of 85 games, still a record for consistency in a year he won both Wimbledon and the U.S. Open again. The only defeat that mattered to McEnroe mattered a hell of a lot, however, as he lost in five sets in the French Open final to bitter rival Ivan Lendl. The two men had arguably a greater rivalry in potential that McEnroe and Borg, who both loved the hard courts. Lendl was a master of the clay court and would never win Wimbledon just as McEnroe never took the title at Roland Garros. The manner in which he was denied, however, was what really hurt.
McEnroe took the first two sets easily, dropping just five games along the way. Lendl fought back, though, and in a crazy turnaround won three sets in a row to clinch the title and deny a crestfallen McEnroe, who would later admit that he never got over the defeat. He won Wimbledon a few weeks later, and even defeated Lendl in the U.S. Open final to create that fantastic record that year. If he had won at the French, however, it would have been a near-perfect season on the ATP Tour, something almost no player can claim to have enjoyed.
Since his retirement, McEnroe has had plenty of time to look back on his Grand Slam and end-of-year ATP tournament record with pride, being the record holder for season-ending victories on the men's tour. He has become the go-to correspondent for much of modern tennis insight, and continues to be a major name on the ATP Tour in his role presenting the action just as he was in bringing it back in the 1970's and 1980's.
Never boring, always like a bull to a red rag in his career, Tennis Hall of Famer John McEnroe created tennis history and continues to be a major part of it to this day.  As he said during his incredible run in 1984, "I felt like I couldn't lose."
So too did tennis fans around the world watching 'Mack' on the attack.