On December 18, Kyiv will host the event dedicated to the issue of gambling legalization in Ukraine – Kyiv iGaming Affiliate Conference. Ukrainian and international speakers will be represented by the gambling industry experts and public authorities.
Presentations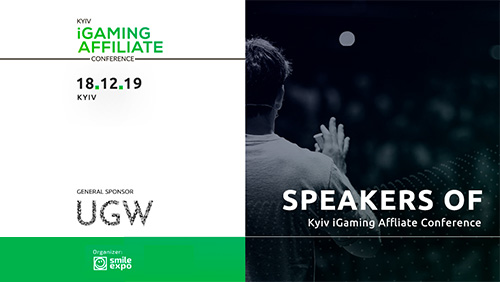 Event will discuss the hot topic of gambling legalization in Ukraine and the cases of successful regulation of gambling in various countries. Guests of the event will find out exciting insights from the Ukrainian specialist of this industry, as well as their foreign colleagues.
Tetiana Klymenko – Head of Legal Department at Law & Trust International, expert in payment solutions for gambling, corporate and tax law. Tetiana will make a presentation about the systems of financial and tax monitoring of the gambling business, also becoming a conference moderator, helping to connect speakers with the audience.
Oleksandr Dubinskyi – Deputy Head of the Committee on Finance, Taxation and Customs Policy of the Verkhovna Rada of Ukraine, author of the draft law № 2285-3. He will explain how to move gambling activities from the shadows, analyzing social benefits of legalization.
Lavrenty Gubin – Marketing and Public Relations Director at Storm International, company with gambling brands in Europe and the CIS, in particular, Shangri La Casino that is working successfully in Belarus, Georgia, Armenia and Latvia. Based on this case, speaker will explain how to build a service for players from scratch.
Andriy Zhupanin – Member of the Ukrainian parliament, specialist in international civil and commercial law. Has been a Sr. Lawyer at DLA Piper – company listed in top ten most successful legal enterprises in the world. Andriy will tell about equipment certification in different countries of the world and what system will suit best for Ukraine.
Kyiv iGaming Affiliate Conference will also feature presentations from Nadya Hambach (Gambling law expert at Velchev & Co.), Charmaine Hogan (Head of Regulatory Affairs at Playtech), Viktoriya Ivakhno (Senior Lawyer at SBSB), Sergio Suárez (Senior Technical Compliance Engineer at Gaming Laboratories International) and many other professionals.
Roundtable discussion dedicated to the prospects of the Ukrainian gambling market
Event will organize a round table with the expert participants: Iryna Sergienko (President of the Ukrainian Gaming Industry Association), Yuriy Husyev (Head of Kherson Regional State Administration) and Ihor Makiievskyi (Head at All-Ukrainian Association of Employers in the Recreation and Entertainment Sector). They will discuss a topic of Transformation of the gambling market in Ukraine and such matters as:
• how to create a favorable ecosystem for gambling development in Ukraine;
• what adjustments are necessary to the draft law on legalization;
• when the operations of regulating bodies will be organized properly;
• what will change about the lottery business rules;
• benefits of separate gambling zones and launching casinos all across the country.
Kyiv iGaming Affiliate Conference attendees will be able to learn from the speakers' presentations and talk to experts in person.
The full conference program is already available: affiliateconf.com.ua