Riding a seven-game winning streak into the week, the Boston Bruins now find themselves sitting atop the odds to win the 2020 Stanley Cup at sportsbooks.
Odds courtesy of OddsShark.com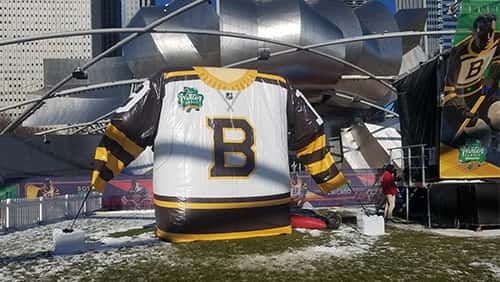 Boston is the +800 betting favorite on the 2020 Stanley Cup odds after putting together a strong 19-3-5 start to the season. Brad Marchand and David Pastrnak have combined for 85 points through the team's first 27 games of the season to lead the Bruins' attack, while Tuukka Rask has a 13-2-2 record between the pipes with a .933 save percentage.
The Washington Capitals then sit second at +900 odds to win the 2020 Stanley Cup, with Alex Ovechkin and company sitting atop the Metropolitan Division standings with a 19-4-5 record on the season. Ovechkin has 20 goals in 28 games this season, while defenseman John Carlson has a team-high 37 points.
It's the Colorado Avalanche third at +1100 on those NHL futures, with the defending Stanley Cup champion St. Louis Blues tied with the Tampa Bay Lightning and Toronto Maple Leafs at +1200 odds. The Blues aren't showing any signs of a championship hangover this season, as they sit atop the Central Division standings, but the Lightning and Maple Leafs have both been inconsistent.
The Dallas Stars have cooled off over the past week with three straight losses, but they're still among the top teams at +1400 on the 2020 Stanley Cup odds, with the Edmonton Oilers and New York Islanders both at +1600. The Oilers are atop the Pacific Division standings with 37 points in 29 games on the season. The Vegas Golden Knights, the preseason favorite to win the Pacific Division, have not met expectations and are back at +1800 on the championship futures.
The Carolina Hurricanes, San Jose Sharks, and Philadelphia Flyers sit in the next tier of contenders at +2000 on the odds to win the 2020 Stanley Cup, with the Nashville Predators, Winnipeg Jets, and Arizona Coyotes all at +2200, and the Pittsburgh Penguins at +2500. The Penguins are sitting in the middle of the pack in the Eastern Conference, with captain Sidney Crosby out indefinitely after undergoing sports hernia surgery.
The longshots on the NHL betting futures are then the Anaheim Ducks and Los Angeles Kings, both at +12500, and the Detroit Red Wings, who have faded to +75000 on the odds.