PokerStars knew what they were doing when they named the Road to PSPC after the most fittingly named poker player on their books. Chris Moneymaker's Road to the PSPC has seen over $170,000 won in Platinum Passes and six players book their seats to Barcelona, each with a package worth over €26,000 ($28,800) across the week.
With Moneymaker having made six stops to date in Sochi, Reno, London, Newcastle, Dublin and, er, Milton Keynes, the 2003 WSOP Main Event champion heads back to his homeland for the next stop, being as he is back in the U.S.A. for  the Seminole Hard Rock Hotel & Casino event in Florida, which takes place between December 13th-15th.
With the January leg at Stones Gambling Hall currently off the menu due to the sensitivity around the Mike Postle investigation at the venue throwing any action there into a harsh light, the December leg sees Moneymaker get an opportunity to award a fellow American the PSPC ticket, something he's only done once so far on the tour.
In Sochi, Russia, it was Vadzim Haiduk who took home the golden PSPC ticket, winning his way to Barcelona as he did in mid-October. From Russia with luck, Moneymaker flew to California to see Drew Gonzalez take the ticket at the Run It Up Reno Peppermill in Nevada.
Moneymaker's tour of Great Britain and Ireland saw the majority of the stops on the tour and plenty of the biggest action. They even saw Moneymaker make the final table in Ireland (pictured below).
In London's Hippodrome in Piccadilly, it was Andrew Barham who won the PSPC under the brightly-lit baubles and velveteen furnishings of one of the most comfortable casinos in the world.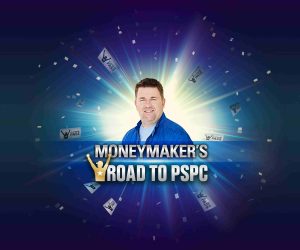 From there, Moneymaker travelled North to Newcastle, awarding Daniel Stancer the victory in Aspers Casino. Moneymaker even found time to deal the final hand in some stops and was handing the PSPC ticket to Brazilian player Valdir Corderio dos Santos when he took down the Milton Keynes leg after a dramatic final table back in London in early November.
A the final table he managed to reach himself, Moneymaker saw Victor Antoci from Moldova take down the tournament at the Bonnington Hotel in Dublin as Irish eyes were definitely left smiling by the infectious winning personality of poker's favourite name.
With Moneymaker returning to the United States to do what his name decrees, PokerStars will be hoping for bumper crowds to pitch up and pay the $360 entry and see their own name get added to that exclusive list when the PSPC event rolls around next year in Barcelona.
The Seminole leg of Moneymaker's Road to PSPC takes place between December 13th-15th and we will have a full rundown of the lucky winners across what should be a fun weekend on the East Coast.