SiGMA delegates returned to Malta's MFCC for the second day of the expo, another jam-packed experience with iGaming professionals in attendance from all over the world. We even had an appearance from Brazilian football legend Roberto Carlos, lucky.io's brand ambassador, who greeted delegates and graciously posed for selfies and provided autographs.
"Malta is spectacular. For me, it has been an amazing experience. I'm very happy to be here in Malta again, very happy and I hope to always come back.  I want to thank Lucky for trusting in my work and I'm truly happy to be the company's image and happy to participate in such a great event", Carlos shared with CalvinAyre.com.
While delegates and celebs have traveled from near and far to attend SiGMA 2019, the subject matter discussed on the expo floor and within conference sessions spanned all corners of the globe, covering markets from Europe to the coveted Asian market all the way to the growing opportunities that lie in America (Happy Thanksgiving, by the way!)
ORYX Gaming's CEO Matevz Mazij graced SiGMA today and in an exclusive interview with CalvinAyre.com, revealed his plans for entering the regulated U.S. market, starting with a partnership with Kambi and Seneca Gaming.
"Well it's a huge game changer for us. The first agreement with the US client, Seneca Gaming, we're hoping for more agreements like that, I'm sure we're going to be able to announce more of those in 2020" Mazij revealed.
"I think the U.S. has great growth potential, both for us and the operators. The Kambi partnership has obviously been a great partnership to work on, Kambi's a great established company and has a great footprint in the United States and we're super happy to work with them" he confirmed.
Traveling to SiGMA all the way from the Philippines, with 20 years of iGaming industry experience under his belt, is Simon Eaton. Eaton recently started his own consultancy and shifted his focus to the lucrative, yet complex Asian market and shared his expertise with delegates by speaking on today's "Affiliates and CMOs" track.
"The countries you focus on, number one, obviously you look at China, but the downside of looking at China is if you dive into that straight away you're going to lose a fortune. So I say look at the other South East Asia countries", he advised.
"Markets I really love to look at is Thailand and I like looking at Vietnam – a huge number of gamblers. I am looking at India, I haven't worked with any operators that are going into India yet, but I do see a massive potential there. Its got the largest middle class population in Asia itself, so there is money floating around and there is money to be spent", Eaton added.
Switching gears back to the European market, 1X2 Network's Iron Dog studio released their first Megaways slot earlier in November and their Chief Commercial Officer Kevin Reid is here at SiGMA to promote the slot, dressed as a pirate.
"We're here to showcase our latest game, Pirates Kingdom Megaways, under license at Big Time gaming. We have brought the pirate kingdom certainly to SiGMA and one of the characters, Jack, the captain, in the game, I've come dressed as him just because I thought, well, this game is all about fun, its all about entertainment", Reid shared accompanied by his parrot, pirate sword and eye patch.
"We really believe in this game and after its exclusivity period on LeoVegas, its performed exceptionally well and its going to be live on Monday, so perfect timing!", he added.
Delegates who dropped by the stand this afternoon to check out the game AND check out Reid in his pirate gear were greeted with special slot-themed rum drinks, rum cake and of course, lots of laughs.
Exhibiting for the first time at SiGMA is nChain, the leading developer of Blockchain innovations, with a special focus on Bitcoin SV (BSV). nChain views the iGaming industry as an ideal beneficiary of blockchain technology and therefore has dedicated significant time resources to developing new products and educating iGaming professionals on what BSV has to offer.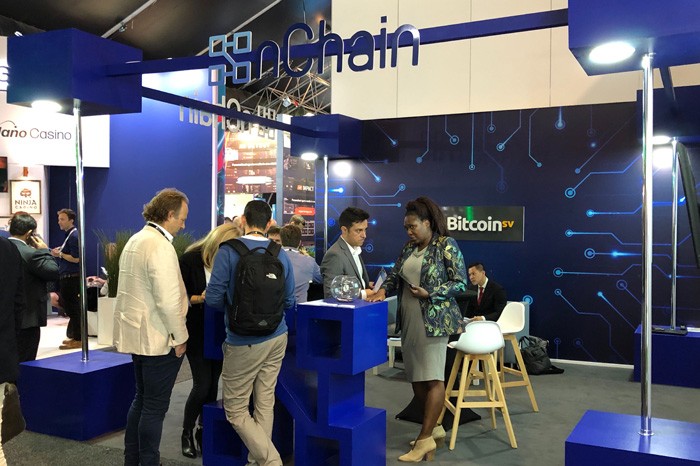 "We've been focusing on iGaming for the last several months alongside financial services and this of course is one of the events of the year on the calendar so we knew we had to be here", nChain's Business Development Manager Osmin Callis shared with CalvinAyre.com.
"Blockchain is very, very suitable for payments. That's fine. What we're here today to tell people is that it can do so much more.  You can have your compliance, you can have your interoperability, you can have techniques for world creation using a whole host of really exciting marriages of different types of technology", she said.