It's official – the rise of the machines is here. At least, that appears to be the case in the gambling community. There are already a number of options for incorporating automated systems on a gaming floor – automatic drink ordering machines, automatic delivery options, etc. However, the latest takes things to a new level and only needs the introduction of Skynet for the rebellion to begin. Lt Game, a subsidiary of Hong Kong-traded Paradise Gaming, is ready to release its robot table games dealers into the wild.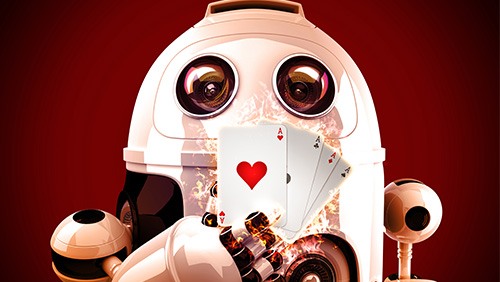 The Macau News Agency (MNA) reports that LT Game's "human-like" robot card game dealers are ready after having gone through several years of development. The robots are now ready to take their place behind card tables at overseas casinos. Macau could be included, as many gaming operators complain of a lack of experienced talent on the gaming floors. The machines come equipped with as much talent as can be uploaded onto their hard-drive brains.
The latest iteration of the robots was shown off at the recent 2019 MGS Entertainment Show, held at Macau's The Venetian. On hand for the demonstration was LT Game quality assurance engineer Ross Zhang, who told MNA on the opening day of the event, "Local casinos lack manpower so we invented this machine in which we keep the fun of the game while avoiding the lack of manpower with this robot."
The company has brought a robot dealer to the show each year since 2015, always providing an updated version as engineers continued to develop the technology. The latest edition can only distribute cards and doesn't include any artificial intelligence (AI) – that will come at a later date. Zhang explained to MNA, "If we introduce any AI function into the machine, we are raising an issue on whether the AI will influence the probabilities of the game. We just keep it simple, he just gives the cards."
Casino robots are coming – it may be five years or it may be ten. Casinos already incorporate certain types of AI into their operations, including in trying to determine who the heavy hitters might be and who wins and loses the most. The technology can keep track of every single operation, every transaction, every dollar spent by every gambler across the casino's offerings.
Incorporating that data into a robot dealer's artificial brain wouldn't be difficult to accomplish. Stephen Schwarzman, the billionaire investor behind the Blackstone Group, said recently, "AI will shape the world in ways we can't imagine. The sooner we come to an understanding of AI that ensures its powerful capabilities are a net positive for people and workers, the more wisely we can develop and deploy it."
That is, until someone flips the switch on Skynet.