Milan – 09 October 2019 – Learn about the latest digital marketing techniques adopted in the gaming affiliate industry and the financial websites at European Gaming Congress 2019 Milan.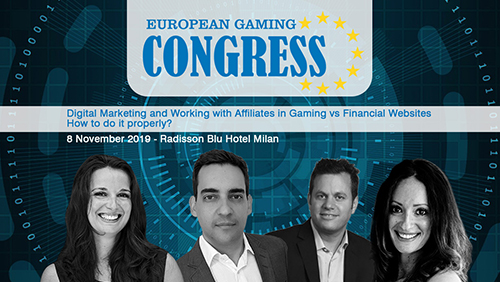 The gaming affiliate industry has not died out yet and even if it has encountered certain regulations across several European jurisdictions, it is still alive and kicking. Several innovative digital marketing techniques have been implemented which are now commonly being used by both affiliates and operators alike.
During the second edition of European Gaming Congress (EGC), which takes place on the 8th of November at Radisson Blu Hotel Milan, you have an excellent opportunity to take part in a unique workshop/panel discussion with some of the leading experts when it comes to marketing in the online gambling affiliate industry in combination with learning how to properly advertise in the financial industry.
The workshop/panel discussion will be joined by Melanie Hainzer (Marketing Manager at Wildz), Sara-Swetlana Klimper (Senior Independent Gaming Consultant) and last but not least Ariel Weiss (CEO of n00b).
The discussion will be moderated by the unique Advocate, Certified Computer Scientist and Notary, Tal Itzhak Ron.
You can register here or view the agenda here!
Below you can find more details about each speaker and the moderator of the discussion:
About Tal Itzhak Ron (panel moderator) – Advocate, Certified Computer Scientist and Notary
Advocate, Certified Computer Scientist and Notary Tal Itzhak Ron (LLB, B.Sc., M.Sc.) – General Member of International Masters of Gaming Law (IMGL), practicing i-Gaming and Financial law and advising the biggest names since 2003. Tal graduated both from Haifa University's School of Law (LL.B.) and Faculty of Computer Science (B.Sc.), and while leading a software development team at a publicly-listed software company, Ness Technologies, has further obtained a Master's Degree in Computer Science (M.Sc.) from Bar-Ilan University. Tal established Tal Ron, Drihem & Co., Law Firm back in 2003, focusing from the start on Hi-Tech, Ad Tech, Financial Entertainment and i-Gaming, quickly becoming one of the first international firms practicing exclusively these areas. The firm today advises the world's leading operations, platforms and governing bodies and is considered the industry standard for entrepreneurs setting up businesses in the Gaming, Digital Marketing and CFD/Forex industries in Europe, Asia and Australia.
About Melanie Hainzer – Marketing Manager at Wildz
Melanie has been working in the iGaming sector for almost a decade, with a good portion of that geared towards affiliation, business development, and online marketing.
Her passion for this industry is as strong as the day she started, with industry advances and innovation forever keeping Melanie on her toes. Highly self-motivated (is an understatement) with strong negotiation skills and a great eye for detail is one way to describe her. Another, more simple way – as a passionate traveler and wine enthusiast.
About Sara-Swetlana Klimper – Senior Independent Gaming Consultant
Sara's journey in the iGaming industry started 8 years ago in Australia and she finds it as a relatively young industry but one of a kind and very agile.
Sara has been fortunate to work with great companies and move around the world in these last years and have enjoyed every aspect of this journey through various stages such as CS, VIP, AM, Affiliation, Operations. The iGaming industry is filled with talented, innovative and ambitious professionals, who constantly contribute to the industry´s growth and she is looking forward to seeing what the future has in store for us within this industry.
About Ariel Weiss – CEO of n00b
Ariel is the CEO of n00b, an eSports startup aiming to make eSports accessible for non-professional gamers as regular sports are for everybody.
Ariel graduated from the Israel Institute of Technology (Technion) school of Mathematics & Computer Science in 2004 and further obtained an M.B.A from Tel Aviv University in 2010. With over 18 years of experience in the software and hi-tech business, Ariel has long held an appreciation of how technology can change the world. From early-career roles in the elite tech unit of the Israeli Defence Forces leading command & control system development to start-up, C-suite leadership roles in the edTech as well as the eSports space, Ariel have advocated the importance of creating technological products that address user pain points.
Make sure you take advantage of this unique opportunity of learning and networking with the gambling industry in Europe via the EGC platform every year.
Browse the official event website here.
About the organizer, European Gaming Media and Events
European Gaming Media and Events is a leading media and boutique event organizer company in Europe and produces the prominent conferences in the region such as:
● CEEGC (Central and Eastern European Gaming Conference)
● CEEG Awards (Central and Eastern European Gaming Awards)
● Prague Gaming Summit
● Mare Balticum Gaming Summit
● Baltic and Scandinavia Gaming Awards
● EGC (European Gaming Congress)
● VIGE (Vienna International Gaming Expo)
The live events/conference division is in charge of organizing boutique style executive gaming events that focus on bringing inside information from the top gaming experts in the European Union and beyond.
In short, they cover most areas of Europe with international events that serve the local and global industry, optimize networking opportunities and bring the hottest topics into scope.
The event destinations in 2019 will include a further expansion for the company in their quest to enter the Western European region and bring their expertise to produce local gaming events.
For more details about the calendar, agendas and locations, visit the Live Events/Conferences section on https://europeangamingcongress.com/.