If there's one thing more frustrating than bubbling a poker tournament, it's surely being the player who is busted right before the remaining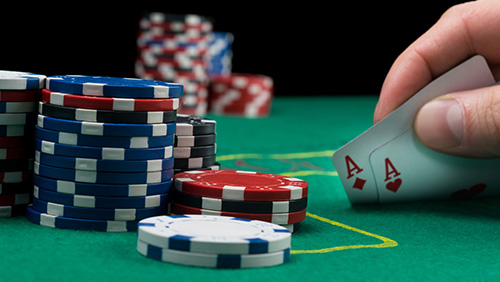 half dozen players in the tournament agree to split the remaining prize-pool six ways.
It wasn't in the official pay-outs and you've played within the structure and blind levels of the tournament organisers, yet they've changed the prizes minutes after you left the event. Rumour has it Michael Douglas' character in Falling Down experienced this very thing in his back story that never made it to the screen.
That tragic fate befell Craig Smith on Sunday night in the U.K. hotbed of poker talent, Leeds, as the Grosvenor U.K. Poker Tour £500 NLHE Main Event came to a conclusion. With 382 entries, the event was the busiest it had ever been, with 74 more participants than the previous year's Main Event.
When the dust settled, it was Essex-based player Brett Angell who took the title, but it was a deal that was done when play was still six-handed that caused a few rumblings of discontent among U.K. poker fans.
With six remaining, here are the amounts each player locked up and the chips they held at the time of the deal:
| | |
| --- | --- |
| Mike Allen | £25,488 (1,675,000 chips) |
| Hasmukh Khodiyara | £23,777 (1,465,000 chips) |
| Daniel Jackson | £22,769 (1,350,000 chips) |
| Richard Kellett | £20,177 (1,080,000 chips) |
| Craig Heaton | £19,712 (1,040,000 chips) |
| Brett Angell | £19,712 (1,035,000 chips) |
The players were playing on for just… £1,200. This sort of multi-way deal isn't so "highly irregular" as HAL from 2001: A Space Odyssey might say, but it seems unfair to many, not least the player who it affects most. As Smith sloped away from the table with just £4,860 burning a hole in his pocket, the remaining six players battled on for, effectively, the trophy. That sucks.
With play seriously affected – as it always is post-deal – it didn't take long for play to get heads-up, and when it did, Richard Kellett it was who was down to just eight big blinds. Having that stack to take on the talent and consistency of Brett Angell, whose best live cash is the £115,083 he won for taking down the £770-entry UKIPT Main Event in London five years ago, isn't optimal as the GTO set say.
Angell is one of Britain's 'sleeper hit' players who excel at this sort of buy-in and don't make any silly mistakes to jeopardise profit. Without a live cash this year, and with only four to his name in the past three years, Angell wanted the win and he got it when Kellett moved all-in with ace-trey. Calling with jack-ten, Angell hit both and jack and a ten on the flop and after a blank turn locked up the hand, it was Angell's title.
Not that Kellet will mind too much, winning precisely £735 less than his heads-up adversary, with both 1st and 2nd place in the tournament ending up paying considerably less than 3rd, 4th or 5th.
GKUPT Leeds Main Event final table payouts:
| | | |
| --- | --- | --- |
| 1st | Brett Angell | £20,912* |
| 2nd | Richard Kellett | £20,177* |
| 3rd | Dan Jackson | £22,759* |
| 4th | Mike Allen | £25,488* |
| 5th | Hasmukh Khodiyara | £23,777* |
| 6th | Craig Heaton | £19,712* |
| 7th | Craig Smith | £4,860 |
| 8th | Jamie Nixon | £4,120 |
| 9th | Makka Hussain | £3,370 |
*denotes six-way deal