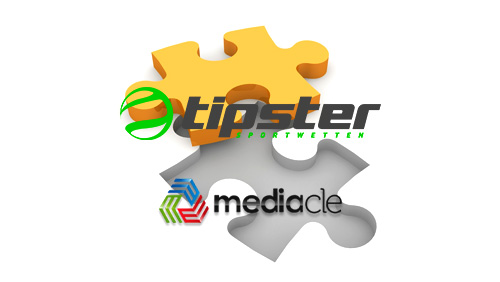 Leading online bookmaker, Tipster announced the launch of its affiliate programme in partnership with Mediacle. The Tipster Sportwetten affiliate programme will be powered by Mediacle Affiliate Platform (MAP™) which offers a competent, reliable and cost-effective affiliate marketing platform and tracking solution for iGaming businesses.
The Mediacle Affiliate Platform (also known as MAP™) is a robust iGaming Affiliate Software built on advanced cloud based technologies by utilising the latest marketing tools and techniques. Apart from these, the MAP™ software is extremely user-friendly as it can be fully customised based on the business needs and requirements from time to time. The reporting and tracking suite facilitated by the MAP™ software is commendable as it helps affiliates analyse and monitor their performance statistics meticulously.
"We are extremely delighted to be associated with Tipster. This is a great opportunity for us as Tipster's association will certainly help us broaden and strengthen our competence by challenging our limits", said Mr Santosh Jain, the CEO of Mediacle.
He further added, "The MAP™ team is looking forward to it and are confident that Tipster's journey with Mediacle will be fruitful and highly rewarding."
Read more about the MAP™ iGaming Affiliate Software by visiting map.mediacle.com.
About Mediacle
Mediacle is a fast-growing digital marketing and IT solutions company which prides itself in offering quality services to the iGaming sector. Over the years, the company has grown significantly and offered its services to some of the most prominent B2C brands in the iGaming industry. The company currently operates in Stockholm, London and Bangalore.
Mediacle Group AB (publ) is a Swedish limited liability company with corporate identity no. 559026-5566 and a registered office in Stockholm. Regulated by the Swedish Companies Act., the company is listed on the Nordic Growth Market (NGM) Stockholm with the ticker symbol MEGR.
About Tipster
Tipster is a leading sports betting brand and has been officially licensed by MGA as a betting provider since 2011. In this fast-growing market, Tipster has been accepted as a leading provider thanks to its own odds management and innovative bet types. Tipster's large team of developers and odds specialists ensures fast updates of the odds within seconds and enables a secure platform. With more than 180 members of staff throughout Europe and over 1,500 match observers worldwide, Tipster ensures high quality of the odds and its platform.