Las Vegas Sands (LVS), the casino giant led by billionaire Sheldon Adelson, isn't having a good year. To be fair, most casinos aren't – especially those that have operations in Macau. LVS, though, has seen its stock drop by 14% this month as a result of a gambling slowdown in Macau and a multibillion-dollar lawsuit. It comes on the heels of other retreats this year across the company's Las Vegas and Macau operations, and at least one industry is beginning to wonder what the short-term future for the company has in store.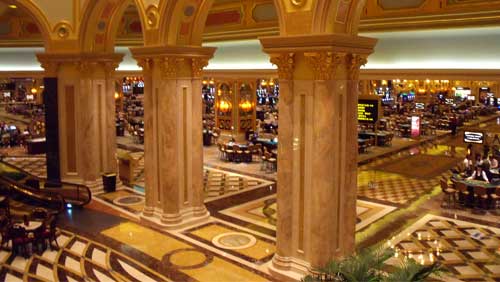 John Staszak, an analyst with Argus Research, has downgraded Adelson's company to "hold" from his previous advice of "buy." He has also lowered his earnings predictions for this year and next after the company missed its second-quarter goals. Its EBITDA (earnings before interest, taxes, depreciation and amortization) was $765 million, much lower than the $788 that had previously been expected. That EBITDA was based on a solid $2.14 billion in revenue, but even this was lower than the $2.15 billion analysts had been prepared to see.
In his view of what's in store for LVS, Staszak asserts, We expect non-gaming operations (conventions, hotels, and retail centers) to boost the company's revenue in Las Vegas, and to help offset weakness in the Las Vegas gaming market. At the same time, we expect a decline in the number of wealthy gamblers traveling to Macau as the Chinese economy slows."
LVS has put a lot of time, money and resources into building up its Macau operations, which may be coming back to bite the company in the rear end. It operates the Parisian Macao, the Venetian Macao, the Sands Cotai Central and two more gambling houses, but all of those venues aren't able to produce the revenue the company would like. As a result, Staszak adds that the company will only earn $3.30 per share this year and, in 2020, will register just $3.60. This is $0.40 off the $4 previously expected.
Analysts are apparently divided over how LVS is going to perform. Ten have suggest a "buy" rating, while another 11 have it at either "buy" or "outperform." Staszak says that, should the US-China trade war show signs of positive resolution, he might be able to update his forecast.