'PayAndPlay' dominates POWERFEST X with five victories, and the online poker room closes 121 bot-controlled accounts in their drive to increase fairness and security.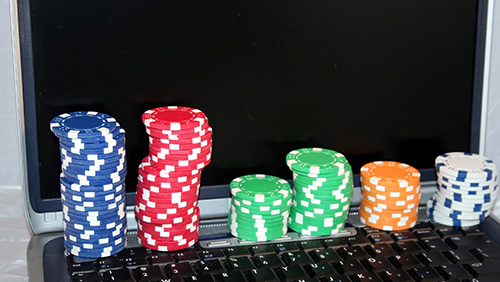 While fingers bleed in the factories, and parrots squawk inside pet shops, elite poker players have been carving through the world like sharks through tuna.
partypoker LIVE MILLIONS Europe.
POWERFEST X.
For this little ditty, we focus on the termites who invaded partypoker's POWERFEST X for 15 glorious days and 275 events. The tournament series pulled in $33,595,117 in prize money, with the final day accumulating and delivering $8,660,291.
On that final day, the spit-roasted boar with an apple in its mouth was the $10,000 buy-in, $1m GTD Super High Roller. Kristen Bicknell once again proved herself to be goosebump worthy with another deep run finishing ninth (a few days later she would finish sixth in the €100k Triton High Roller in Rozvadov).
The winner was 'Junglemandan' (not the soft porn actor, Daniel Cates), banking $276,511 after negotiating a heads-up deal with the incredible 'PayAndPlay' (more on him later).
The event pulled in 131-runners, and 20 people made money.
Final table result
1. Junglemandan – $276,511*
2. PayAndPlay – $240,807*
3. Amadeus_Mozart – $157,200
4. MARL0 – $111,350
5. Tigerbluff – $78,600
6. AndreyBolkonsky – $62,225
7. DasistMirWurst – $49,518
8. Kroat.. – $39,300
*Reflects a heads-up deal
POWERFEST highlights
The undisputed star of POWERFEST X was 'PayAndPlay'. This amazing 'John or Jane Doe' finds coming second a rarety. Outside of losing to 'Junglemandan', 'PayAndPlay' won five POWERFEST titles.
Here they are:
A 94-entrant field in a $530 buy-in, $30k GTD PLO 6-Max for $14,701.
A 97-entrant field in a $5,200 buy-in, $500k GTD PKO event for $159,753.
A 257-entrant field in a $1,050 buy-in, $250k GTD Fast PKO for $44,341.
A 136-entrant field in a $1,050 buy-in, $150k GTD PKO for $34,853.
A 123-entrant field in a $530 buy-in, $75k GTD Mix-Max Fast PKO for $15,551.
'RentCollection' was another multiple winner, taking home two titles, after wading through a 137-entrant field and a 1,697-entrant field to win back-to-back POWERFEST titles on Day 2.
The partypoker ambassadorial team faired well.
Patrick Leonard won a 488-entrant $320 buy-in, $150k GTD Big Antes PKO event for $24,916. Renato Nomura won a 150-entrant $530 buy-in, $75kGTD Fast PKO for $15,844. Team Online 'DWStevie' won a 1,206-entrant, $11 buy-in, $10k GTD event for $2,159. And Team Online Travis "DramaticDegen" Darroch won a 527 entrant, $109 buy-in, $50k GTD Deep for $9,823.
partypoker Ambassador, Joao Simao, won a record ninth POWERFEST title after taking down the $50k GTD Big Antes Deep Turbo for $13,250.
POWERFEST also ran two $25,500 buy-in events
'CocaineKiller' won the 82-entrant, $25,500, $2m GTD Super High Roller for $543,250.
Final table results
1. CocaineKiller – $543,250
2. Triple Sexy – $379,250
3. AndreyBolkonsky – $266,500
4. Ubica profi – $184,500
5. BtchByTrade – $143,500
6. Sundaynightking – $107,625
7. MRGAMMON151155 – $87,125
8. Porsche911 – $71,750
'James_hu007' won the $25,500, $500k GTD PLO 6-Max for $430,000
Final table results
1. James_hu007- $430,000
2. Ibeturaise – $275,140
3. Junglemandan – $139,750
4. ChimneyBarrel – $96,750
5. JaiWallet – $75,250
6. Massivec0nt – $58,109
partypoker Close Another 121 Bot-Controlled Accounts in July
partypoker promised to keep the poker community updated on their drive to kill all known bots, and they've been true to their word.
In July, 89 accounts fell under the axe, generating $76,267 in confiscated funds in the Dotcom market, and 32 accounts died in the Doteu market with €88,351 distributed to affected players.
If you feel a bot is beating the crap out of you at the partypoker tables, then contact [email protected]..