Tuesday 6th August 2019 – Racing Post is delighted to announce a partnership with TXODDS and Banach Technology to build a new horseracing trading solution. The joint venture, called AllSported, combines the market-leading expertise of these three industry leaders.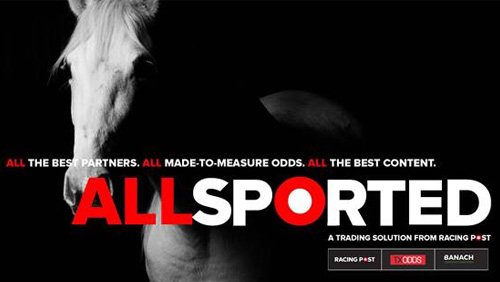 Combining the leading price feed supplier (TXODDS), the latest proprietary trading algorithms and analytics (Banach) with the leading data and content provider to the industry (Racing Post) offers a completely rounded horseracing trading solution.
AllSported is the expert trading solution that gives bookmakers made-to-measure horseracing odds delivered with streamlined integration to build better books. The solution also comes with the high-quality content provided by Racing Post that has been proven to increase online engagement, dwell time, customer retention, and even the stakes themselves.
On the launch of the new partnership Chief Revenue Officer Racing Post, Mike Griffin spoke about how the product is a revolutionary new direction for the business.
Griffin said: "For the first time we are able to offer the industry a full managed horseracing trading solution. With our rich heritage in horseracing it's exciting to see the focus of the business expand. Working with industry leaders in TXODDS and Banach has made this process even smoother, the product is the best in the industry and we're delighted to announce the partnership today."
CEO at TXODDS, Einar Knobel echoed Griffin's words discussing his excitement about the future of the partnership and the value of Racing Post to the JV.
"It's been a rewarding journey to get to where we are today but I am delighted to announce that we are working with Racing Post and Banach, two front runners of our industry. We've thoroughly enjoyed working with both businesses in the past and we're looking forward to a very successful launch of our new trading solution."
Mark Hughes, Banach CEO, described the partnership as the best in class mentioning Racing Post experience in the industry as a key driver behind the Joint Venture.
"It's excellent to be working with two of the industry's biggest names. Racing Post has a unique heritage and background and it's an exciting time to partner with them as they diversify their business. The product is the best there is in the marketplace for horseracing trading and that is down to the hard work and dedication of the three partners involved."
AllSported launches on 8 August 2019.