25 June 2019, Johannesburg, South Africa/ Lagos, Nigeria – Don't miss the Annual Sports Betting West Africa Summit.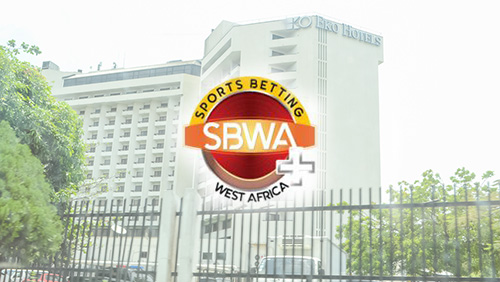 Set to take place at the Eko Hotel and Suites in Lagos, Nigeria from 23 to 25 July, the highly anticipated SBWA+ 2019 promises to not only offer delegates the best in expert presentations, but also an array of fun filled networking events.
The line-up for the three days include:
Day one – Tuesday, 23 July
09:00 Registration
10:00 to 17:00 ANB Conference and SBWA+ Exhibition
19:00 VIP Table Talk Dinner (USD100 per person)
Day two – Wednesday, 24 July
09:00 Registration
10:00 to 17:00 SBWA+ Conference and Exhibition
On day two, panel discussions and presentations will cover topics such as:
● Gaming in West Africa – where we stand and where we want to be in five years' time
● An operator's guide to risk management
● Improving working relationships between operators and agents
● Overcoming the technical challenges of operating and capitalising on opportunities in West Africa
● A localised approach to building the ideal platforms for the African Market
● Enhancing mobile payment solutions, and other topics relating to the growth of gaming enterprises in West Africa
17:00 till late SBWA Fashiontv Gaming Group Party which includes a lottery draw , hosted by Emirat with a first place prize to the value of 5, 000, 000 NGN. The party will be covered by Fashiontv Gaming Group camera crew. Sponsorship packages are available to boost your brand with exposure to over 2 billion viewers.
Day three – Thursday, 25 July
09:00 Registration
10:00 to 17:00 SBWA+ Conference and Exhibition
Day three will present delegates with an insightful agenda including presentations and discussions about
● The role of gaming in Africa's mobile economy
● A market comparison between francophone Africa and West Africa
● The impact of virtual sports and live betting
● The importance of brand ambassadors in a digital world
● The benefits of affiliates and how it can be implemented in Africa
● A strategic approach to responsible gambling
19:00 to late SBWA Poker Tournament and Networking Drinks (USD150 buy-in per player)
Profit from this acclaimed event; get together with Africa's most prominent operators while networking with influential gaming industry professionals from across the globe.
Register now to be part of West Africa's largest gaming summit and exhibition.
About the event
Sports Betting West Africa+ has been re-invented to include new topics, new themes and bring even more stakeholders in Africa's gaming industry together.
SBWA+ aims to enhance the skills of the stakeholders who work in all disciplines of the gaming industry, through sharing knowledge about the latest regulations, marketing techniques, cutting edge technologies and responsible gambling practices to ensure your long-term success in gaming. This year's agenda has been developed to focus on the challenges and opportunities facing operators in West Africa thereby presenting more business opportunities to our exhibitors and sponsors.
Comments