Poker player and businessman, Brandon Steven, pleads guilty to illegal gambling charges, forced to serve 200 hours of community service and stump up $1.1m to the authorities.
In January 2018, I wrote a second article covering the FBI investigation into an illegal gambling ring in Wichita, where I said the case had ended, and the authorities had cleared Brandon Steven (a well-known poker player and businessman) from any wrongdoing.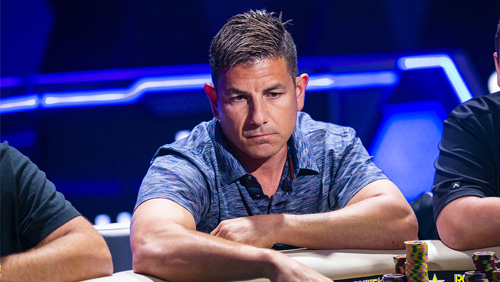 Someone wrote in the comments of that piece:
"How you came up with being over sounds like the FBI covering up for Clinton! It's not over genius!"
Well, it's over now.
Kansas news outlets are reporting that Steven reported guilty to the charge of  'accessory after the fact to the unlawful transmission of wagering information' in a Wichita courtroom, Tuesday.
The 45-year-old could have faced up to a year behind bars, but instead found United States Magistrate Judge Gwen Birzer in a generous mood, giving Steven three years probation and 200 hours community service instead of worrying about dropping the soap in the showers. The one caveat, and it's a big one, is that Steven has to pay the authorities $1.1m as part of the plea deal (the amount investigators believe Steven made from the game(s)).
Steven is said to have hidden gambling ledgers and electronic records appertaining to illegal poker games involving the 48-year-old bookie Dave "Smoke" Flax, one of nine people, including law enforcement officers, charged by officials over their role in the game(s).
45-year-old, Steven, refused to say anything in court, and left through the back door to avoid the press, leaving his attorney, J.R. Hobbs to say his client wouldn't 'disappoint' the court. Hobbs also confirmed that Steven had already paid the $1.1m before the hearing began.
Steven has earned $3.1m in live earnings, including a victory in a $50k ARIA High Roller in 2016 for $648,000, and has also cashed twice in the $111,111 One drop High Roller finishing seventh in 2013 for $621,180 and tenth in 2016 for $384,425.
The Wichita businessman has not recorded an ITM finish since 2017, and that's likely due to this court case, as it was in February 2017 that Steven spoke out about the FBI investigation suggesting it was an inquiry into his unsuccessful attempt to open the Castle Rock Casino in Kansas back in 2015.
And that brings this case to a close.
I think.
I hope.​