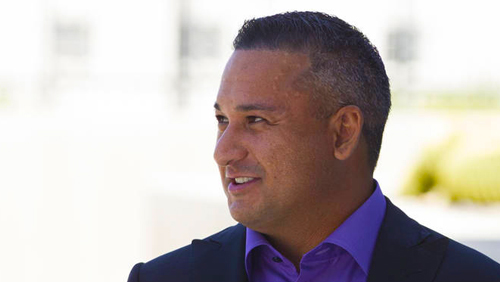 It could have been worse, so Dave Oancea should be thankful and learn a lesson. The man better known as "Vegas Dave" won't be going to jail after being found guilty of stealing social security numbers to create false casino accounts and hide his winnings. He could have, in theory, been put away for 95 years, but won't serve any time. He will, however, be banned from sportsbooks in Nevada for the next three years.
Just over two years ago, Vegas Dave was indicted on 19 felony counts of stealing social security numbers, as well as using fake numbers, to open betting accounts at two sportsbooks—those at Wynn Las Vegas and Westgate Las Vegas. Those accounts placed wagers worth a total of $3.5 million. As any spineless criminal does, he pleaded not guilty of the charges and waited for the saga to play out.
After wrangling over the case in court, where Oancea was represented by high-priced celebrity lawyers, prosecutors and the defense team struck a plea deal that was signed off on by the judge, U.S. District Judge Jennifer Dorsey. Dorsey sentenced Oancea to three years of probation, 150 hours of community service and gambling counseling addiction, as well as the sportsbook ban.
To Oancea, the case was just another bet, a wager that he didn't take seriously. He said after the judge's decision was announced, "I bet on myself and decided … to stand up for my constitutional rights and to defend my freedom and innocence. Today, I walked out of the federal courtroom a free man with zero felonies and zero prison time."
He didn't so much bet on himself as he used the millions he illegally pocketed to purchase some of the best lawyers in Nevada. David Chesnoff and Rochard Schonfeld have defended Mike Tyson, Paris Hilton, Paul Phua and even Phil Ivey—they know how to work the system and cut deals.
Always a gambler and a showboat, Oancea made the deal without acknowledging that he had illegally created the accounts or stolen social security numbers. However, he publicly admitted that he broke the law when he stated, "I find it very odd that when I was losing [to casinos] for many years there was no issue with these alleged social security numbers." In other words, he admits to using multiple accounts, which can only be done with multiple social security numbers, which isn't possible by a single individual.