Enteractive is delighted to announce that we have been shortlisted for Best 'Acquisition & Retention Partner' EGR's 2019 B2B Awards.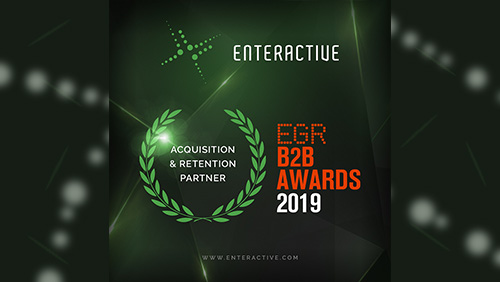 03.05.19: A judging panel for EGR's B2B awards, featuring some of the industry's key stakeholders recognised the quality of our solution, where we help operators safely turn churned users into active players through a unique, personal and responsible approach, backed by industry leading technology.
2019 has been a monumental year for Enteractive, with the launch of (Re)activation Cloud – the iGaming AI driven CRM platform. (Re)activation Cloud offers a multitude of industry-leading features which gives an operator's CRM and reactivation strategy the needed human touch whilst powered by secure and GDPR compliant technology.
Enteractive's CEO Mikael Hansson said:
"Receiving this nomination is fantastic news for all of us at Enteractive. With 2019 marking 10 years since we started operating, and also seeing the launch of (Re)activation Cloud further cements our position as a premium retention solution provider for the iGaming industry.
Due to the ever-changing regulatory market we are in, we have fought to stay ahead of the game offering alternative approaches to acquisition and retention. By focusing on always staying true to our core values of creating valuable player relationships in a complete responsible way, we are able to guide our partners through the best possible engagement routes.
I would like to take this opportunity to thank everyone at Enteractive, without whom this would not have been possible."
The winners will be announced at a prestigious ceremony held at The Tower of London, on the 25th of June.
For more information on this release or to arrange an interview please contact Carla Formosa at Enteractive at [email protected]
Enteractive is a leading provider of player retention solutions for the iGaming industry. Co-founded in 2008 by CEO Mikael Hansson, the company's Player Reactivation Services help operators return churned players back to action, while its Player Support Offering makes sure active players stay on board. Enteractive received its Responsible Gaming accreditation from the Global Gaming Guidance Group and is committed to supporting and augmenting the responsible gaming policies of its operator clients. This includes promoting the awareness of problem gambling, as well as improving prevention, intervention, and treatment. Their clients within betting and gaming include leading names such as Betsson Group and Gaming Innovation Group.
Comments