Leading technology provider BtoBet is proud to be shortlisted in four different categories for the prestigious EGR B2B Awards. The company, considered a pioneer in the field of harnessing Artificial Intelligence at the core of its advanced Neuron platforms, has been nominated as a finalist in four of the most coveted categories: "Innovation in sports betting software", "Multi-channel supplier", "Platform of the Year", and "Sports book platform supplier".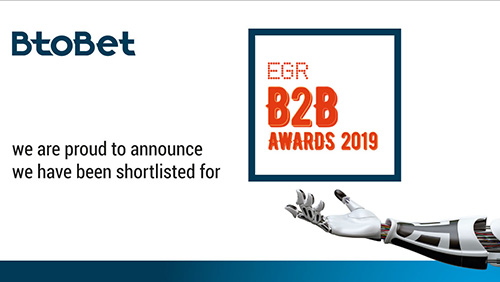 "To secure a place in not one, but four of the most esteemed categories of these prestigious awards is testament to the innovative and advanced technology that the company has been developing during these months," says BtoBet's CEO Alessandro Fried. "It also spurs us to constantly go further in our approach in putting the player at the center of our technological project, constantly pushing the boundaries to enhance the player experience through a unique and tailored approach based on his particular preferences."
Fried further stated that: "Throughout this year, BtoBet has been constantly announcing partnership announcements and collaborations with major operators, vastly increasing its foothold in markets such as Africa, Latin America and the US, and to be put in the fold with industry's leading icons is also a recognition of our employees' great commitment. We will be looking forward to celebrate the gaming industry's success stories with our peers on the special awards ceremony."
The EGR B2B Awards celebrate the very best service providers in the online gaming industry, recognising the achievements of suppliers from across all the major egaming disciplines including betting and gaming software, networks, mobile, payments, recruitment, IT and infrastructure.
The award ceremony is set to take place at the renowned Tower of London on the evening of Tuesday 25 June.
About BtoBet
BtoBet is a multinational company and is part of a group with 20 years of experience in software development in IT, telecommunication, e-commerce and banking, strongly committed to technology and widely investing in technology research and development. The experience gained at the forefront in these advanced environments, compared with the more recent gambling industry, allows BtoBet to be visionary with a deep understanding of the requirements of the market, catching changing trends and anticipating bookmakers' and operators' needs. BtoBet is a true partner in technology, offering a standalone platform and services for the iGaming and Sports Betting industry. It counts on a very talented, continuously trained development team and day to day management support to clients. BtoBet allows licensees to be unique in the market, by giving them the opportunity to completely personalise their offers for Sports betting and iGaming business, online mobile and retail. Visit our site on: https://www.btobet.com/en/.
Comments