Monday, April 8th; 2019, Brighton – Specialist wagering industry online marketing agency Digital Fuel Marketing has taken a huge step forward in their expansion plans across the USA with approval to operate in New Jersey having completed an Ancillary Casino Service Industry Enterprise License application. The New Jersey state government granted the go-ahead for Digital Fuel Marketing's license application, opening up the door to a whole host of new commercial agreements for the fast-growing firm.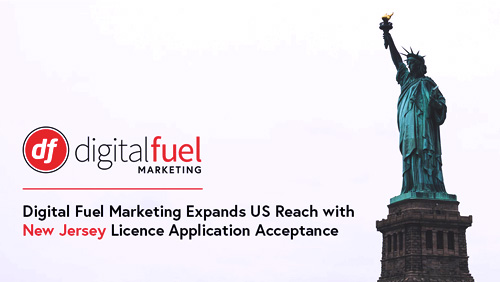 With the rapid development of the US sports betting market, Digital Fuel's readiness to collaborate with the many new online sportsbook operators in New Jersey signals their intent to bring customer acquisition and retention specialism to the Garden State before rolling out operations across the USA as more states open up to regulated sports betting. The move will allow Digital Fuel to offer marketing strategy, media buying and customer lifetime management services as well as being able to deliver affiliate marketing solutions on both a revenue share and fixed fee basis whilst building on their existing relationships with gaming providers across the region.
Having been working in the US space for the past two years, delivering campaigns focused on daily fantasy sports (DFS), poker, casino and sports betting, Digital Fuel is ideally placed to react to the growing demands of the emerging US market.
Digital Fuel Marketing Founder and CEO Toby Oddy announced "there has never been a more exciting opportunity within the sports betting community as the explosion of demand for sports wagering products in the USA shows no sign of slowing down and Digital Fuel is delighted to be among the first US pioneers in the highly competitive wagering customer acquisition space."
Oddy added "Our ACSIE License application reflects our commitment to helping shape the development of New Jersey's fledgling sports betting market as we ensure the responsible approach to affiliate licensing and regulation becomes the model adopted US-wide as sports betting sweeps the nation."
Originally founded in 2013, Digital Fuel has rapidly expanded their global reach adding offices in Hong Kong and New York to their Australia and UK bases, allowing for round-the-clock servicing of clients in the notoriously demanding iGaming space. The agency's wagering industry expertise is drawn from a team boasting experience gained at the likes of Mansion, Coral, Tabcorp and 888 so there is a wealth of talent across their 50 strong staff roster which Oddy believes sets them apart from the competition.
"When I started Digital Fuel my goal was to bring a no-nonsense data driven approach to high value customer acquisition and retention in the highly competitive betting and gaming sector" Oddy said. "As we cement our foothold in the US market with this latest move into New Jersey I am delighted that the straightforward ethos behind the business resonates as much today as it did when we launched. To have built the reputation we have through the relationships we've formed across four continents is testament to the drive and determination shown by everyone throughout the business and I could not be more proud of how far we have come. 2019 is set to be another milestone year for Digital Fuel and I'm incredibly excited to see how the burgeoning US market develops!"
About Digital Fuel Marketing:
Founded in 2013 by experienced wagering industry professional Toby Oddy, Digital Fuel Marketing was born out of a desire to offer global betting and gaming brands strategic and executional support across marketing functions. Now servicing operators across the UK, US, Australia and Asia, Digital Fuel Marketing continues to deliver high end player acquisition and user engagement strategies with a focus on a scalable ROI. www.digitalfuel.marketing.