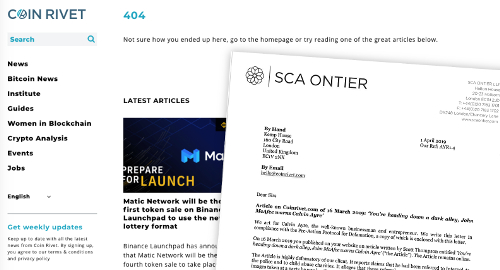 Calvin Ayre has a warning for the cryptocurrency world's social media trolls: your words can and will be used against you in a court of law.
On April 1, Ayre's attorneys served legal papers on the publishers of the UK-based Coin Rivet crypto blog, warning them that their post titled 'You're heading down a dark alley, John McAfee warns Calvin Ayre' was "highly defamatory" and resulted in "serious damage" to their client's reputation.
The article in question focused on Ayre's recent trip to Cuba and his subsequent social media posts featuring photos and videos of himself with a local all-girl dance troupe hired to perform at a party he'd hosted.
Coin Rivet's article, one of a series of posts published following the release of Ayre's photos and videos, described the girls as "pre-teen" i.e. below the legal age of consent, and quoted McAfee saying Ayre was "wandering down a dark alley" and "dragging down" the overall crypto world.
The letter sent by Ayre's attorneys to Coin Rivet pointed out that four of the five women in Ayre's photos and videos were 18 years or older at the time of the party, while the youngest was 17.5 years old. In other words, none of the women was "pre-teen" and all of the women were well above the legal age of consent.
Ayre's attorneys noted that no one at Coin Rivet had approached Ayre for comment before the article was published. Furthermore, Coin Rivet's social media channels amplified the article's circulation by promoting it as "today's most clicked article" and "our most clicked article over the weekend and currently occupying top spot in our Trending Now section."
Following receipt of the attorneys' letter, Coin Rivet has taken the offending articles offline, but Ayre's attorneys aren't stopping there. The site had also claimed that Ayre had been referred to the likes of Interpol, various police departments and child abuse charities.
But other articles reveal that it was Coin Rivet writer Helen Bennicke and one of her colleagues who had themselves "contacted the authorities after seeing what Calvin Ayre had posted," claiming that "enough people are concerned that something needs doing about Calvin" and that "to do nothing would feel immoral."
This article, titled 'The seedy world of Calvin Ayre needs tackling,' has also been removed from Coin Rivet but copies remain posted to sites like Yahoo News due to Coin Rivet's deal to repurpose its material to sites with larger audiences. (Please note the Yahoo News article has now been removed but to read a copy of the Coin Rivet's attack, click here).
Ayre's attorneys have given Coin Rivet until April 8 to respond to their demands for redress, including publishing an apology to Ayre that acknowledges the falsity of the allegations. Failure to do so will result in proceedings against the site for libel.
Ayre's attorneys are also currently monitoring a number of other groups and individuals who amplified Coin Rivet's libel and made libelous statements of their own. Anyone who leaves these ill-advised public utterances online or continues to engage in libelous activity will soon find themselves called upon to justify their actions in court.
We reached out to Coin Rivet to allow them the opportunity to explain the true source of their antagonism towards Ayre but have received no response to date. Their silence speaks volumes regarding their newfound unwillingness to support these allegations when doing so might come at a personal cost.
There's a growing consensus that the current plethora of crypto options will eventually narrow down to a single universally accepted coin. This winner-takes-all contest is increasingly being waged like an episode of Game of Thrones, with some proponents relying on the strength of their product while others resort to duplicity and backstabbing worthy of Cersei Lannister.
The unfounded allegations made by the likes of Coin Rivet against Ayre have been eagerly adopted by crypto backers opposed to the Bitcoin Satoshi Vision (BSV) protocol that Ayre publicly supports.
Ayre has also taken flak over his support for Craig Wright, nChain's lead scientist and BSV's chief architect. Ayre has publicly supported Wright's claim to be Satoshi Nakamoto, the inventor of Bitcoin, based on Wright having privately demonstrated unequivocal evidence to support such a claim.
Ayre has also publicly voiced the view that the attacks against him are intended to damage BSV's standing in the court of public opinion and thereby elevate BSV's rivals to a position they don't actually deserve on their technical merits.
Anyone wishing to learn the truth about BSV should attend the next CoinGeek Conference in Toronto on May 29-30. There they'll discover a troll-free environment in which they can learn more about BSV's capacity for massive on-chain scaling, a feature that leaves House BSV well-positioned to vanquish the pretenders to crypto's Iron Throne.