It's your birthday and grandma just gave you a little birthday cash, but you don't know where to spend it. The Venetian Resort Las Vegas has the perfect answer—a complete VIP package that includes a private jet, a four-night luxurious vacation and much more. Of course, grandma's gift needs to be more than just a couple of dollars, as the package "starts at" $450,000.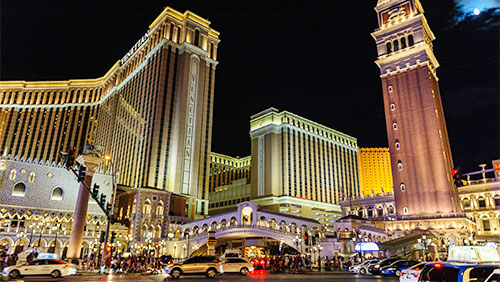 According to Casino.org, the "Want the World" package is meant to be over the top and certainly isn't for everyone – there are at least 450,000 other things that would be better used by the money. It "provides an experience where no whim is too wild and every desire is anticipated" and includes private jet transportation to McCarran International Airport, luxury ground transportation to the resort in a Maybach, four nights in Venetian's presidential suite (complete with private butler) and more. The resort doesn't say whether or not it includes any free gambling markers but, at that price, it could afford to give away a few hundred dollars.
Casino.org has compiled a list of how to blow money in Vegas. Among the options are a $5,000 hamburger at Fleur in Mandalay Bay (to be fair, it's served with foie gras and black truffles) and, for $250,000, guests can control the fountains at MGM's Bellagio. MGM is nice enough to throw in a 30-liter bottle of Ace of Spades. The Palms has a new Empathy Suite, 9,000 square feet of luxury accommodations for $100,000 a night. It includes a chauffeured car, a 24-hour butler and $10,000 in credit to use at the resort.
Not everything is over the top in Sin City. Timed properly, there are plenty of opportunities to visit the city for much less. Casino.org points out that it reviewed room rates and discovered that a hotel room on the Vegas Strip—specifically at MGM's Circus Circus—can be had for about $34. Not a bad deal; however, that rate doesn't include resort fees or taxes. Tacking those on and the rate goes from $34 to $75.24.
The Venetian is a Las Vegas Sands property, which is owned by casino mogul Sheldon Adelson. By naming the package "Want the World," it's conceivable that it more refers to Adelson's ambitions than to those of the guest.