International award-winning iGaming software development company, BtoBet has renewed their multi-year partnership with Betradar, maintaining their Gold Certification Status with the global leader in analysing and leveraging the power of sports data.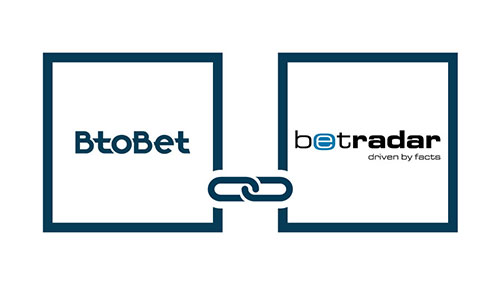 BtoBet first became a client of Betradar in 2016. Since then it has gained Betradar's Gold Certification status through the company's Partner Certification program, which recognises approved technology partners within the industry that have successfully integrated and utilise Sportradar's full-range of betting solutions, including Managed Trading Services (MTS).
Offering standalone platforms and services for the iGaming and sports betting industry, BetoBet utilises Betradar's comprehensive offering of data and betting products and services, including live betting, pre-match betting feed, virtual gaming, Live Channel Online and the signature all-in-one risk management and trading solution, Managed Trading Services (MTS).
MTS Managing Director, Paolo Personeni said: "We are very pleased to extend and continue our partnership with BtoBet.  We have a very strong relationship with the team. Together with our sportsbook risk management activity through MTS, their platform solution delivers a very robust and flexible offering to the marketplace.
"Betradar and BtoBet are both currently working on a number of existing projects across Central Europe, Africa and LATAM. In regions where end users seek increased functionality from their sportsbooks, the combined approach from Betradar and BtoBet works to effectively provide a wealth of experience, knowledge and services that can deliver the best in practice solution to the market. We look forward to continuing to work with BtoBet across a number of new and existing opportunities."
BtoBet CEO Alessandro Fried said: "Betradar remain a trusted and reliable partner for BtoBet. Extending our relationship and building on the success that we have already achieved will undoubtedly create further growth opportunities for both companies. Maintaining our recognised partner status demonstrates our organisation's ability to work successfully with Betradar to deliver the most reliable turnkey solutions for sportsbook operators."
About Betradar
Betradar is the betting arm of Sportradar, the global leader in analysing and leveraging the power of sports data. Underpinned by almost two decades of betting and data knowledge, Betradar offers a complete 360-degree product portfolio with everything a bookmaker needs to successfully run their business, including Betting Services, Gaming Solutions, Live Streaming, Betting Stimulation and our signature all-in-one risk management and trading solution, Managed Trading Services (MTS). This includes fixtures, live odds, esports and virtual gaming solutions. Betradar also provides ad:s, a solution that assists operators to enhance their marketing and sponsorship efforts. Our diverse portfolio enables us to support clients in meeting the challenges and demands of the international bookmaking industry across both new and established markets, whilst maximising their profits. It is our commitment to excellent service, quality and reliability that makes us the trusted partner of more than 600 bookmakers in over 100 countries.
For more information on Betradar visit www.betradar.com.
About BtoBet
BtoBet is a multinational company and is part of a group with 20 years of experience in software development in IT, telecommunication, e-commerce and banking, strongly committed to technology and widely investing in technology research and development. The experience gained at the forefront in these advanced environments, compared with the more recent gambling industry, allows BtoBet to be visionary with a deep understanding of the requirements of the market, catching changing trends and anticipating bookmakers' and operators' needs. BtoBet is a true partner in technology, offering a standalone platform and services for the iGaming and Sports Betting industry. It counts on a very talented, continuously trained development team and day to day management support to clients. BtoBet allows licensees to be unique in the market, by giving them the opportunity to completely personalise their offers for Sports betting and iGaming business, online mobile and retail. BtoBet has technical branches with large ever-growing teams of developers in Skopje, Ohrid, Bitola, Belgrade, Nish, Tirana, and Rome. Malta hosts the commercial and marketing centre. Visit our site on: www.btobet.com
Comments