partypoker has stepped up their intent to move into the poker live streaming market by creating the Team Online concept and announcing Matt Staples as the first member of the team.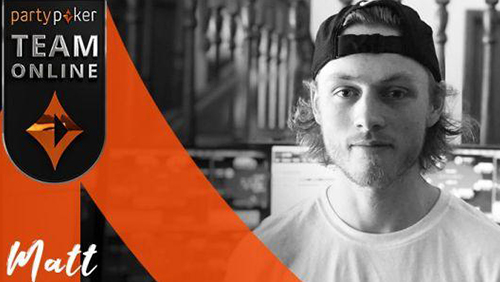 When partypoker's Managing Director, Tom Waters says they have been 'a bit behind the curve when it comes to streaming,' he's not kidding. When PokerStars signed Jason Somerville in 2015, they did so because they could see the value in investing time, money and effort into this brave new world.
partypoker's ambassadors have dipped a few fingers and toes into the stream, but never with the consistency needed to build something that can match, or even surpass, what PokerStars has done.
That's about to change.
partypoker has announced the creation of Team Online to 'comprise a collection of some of the world's most high-profile online poker content creators and streamers.'
The first player to wear the new patch is Matt Staples. A relationship between the pair first emerged on Sunday after Staples announced to his 12,000 Twitter followers that partypoker had gifted him a $5,000 seat into their KO Series $1m guaranteed event.
Yesterday, confirmation of the appointment arrived in my letterbox.
Staples is the brother of Jaime Staples, the former PokerStars Team Pro, who recently parted ways with the world's largest online poker room, and is a hot favourite to join the new revolution at partypoker.
The 22-year-old began playing poker at 18 and streaming at 19. Since then, Staples has created a loyal following of 52,000 Twitch followers who have watched his stream more than 3 million times. Starting at the lowest stakes, Staples intends to continue his growth until he is playing the highest stakes in the business, streamed live to his fans from the partypoker tables.
Matt's audience grew in part because of the exposure gained throughout a prop bet with Bill Perkins where the Staples brothers had one year to weigh within one pound of each other. The Ultimate Sweat as it became known began with Matt weighing in at 134 pounds, and 305 pounds for Jaime. The pair won the $150,000 bet when they both weighed in at 85.4kg on the dot.
Last week, partypoker signed a partnership agreement with Bill Perkins to sponsor his Thirst Lounge streaming experience where Perkins and ten specifically chosen streamers create content designed to appease to people who have a 'thirst' for life.
partypoker will announce more additions to Team Online in the coming weeks and months, as well as creating a live-streamed high stakes cash game experience, and more content from Fedor Holz, Patrick Leonard and Ludovic Geilich.