"A brilliant opportunity to showcase the huge on-going programme of innovation and investment taking place at Novomatic UK" is how Ian Shreeve, Sales and Marketing Director responsible for both Astra Games and Bell-Fruit Games, chose to describe the company's presence at last week's ICE London, the world's biggest gaming event.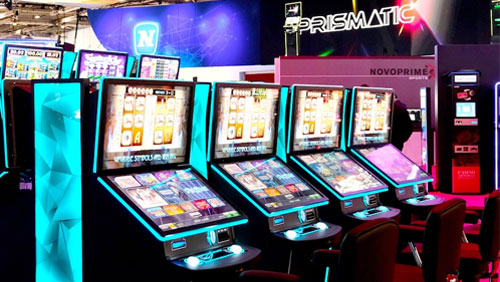 Novomatic UK used ICE to unveil the sit down version of the Prismatic digital gaming terminal, a launch which has had an immediate and significant impact on the order book. "Our presence at ICE has helped take the number of orders received since the official launch of Prismatic less than a month ago to in excess of 1,600 units " stated Shreeve. "We are now in full production through to May and gaining new orders on a daily basis due to the unrivalled combination of cabinet, technology and quality content which is connecting with players across the UK street market."
The sit down version of the Prismatic enables players to enjoy the game playing experience in supreme comfort. Available in both Category C and B3 formats, the Lo Boy Prismatic features a lower height level, slant top cabinet which enables operators to position the game in the mid-floor of an AGC without interrupting the venue's sight lines.
He added: "Our content delivery strategy of drawing on games from Astra, Bell-Fruit, Novomatic, Innov8 and Harlequin is working. The proof is in the cash box which on average is up by 40 percent across Pub Retail, a stand-out success story that has been secured without cannibalising revenue from other machines. The evidence suggests that by ensuring that the game content is fresh and different that we are attracting lapsed and in some cases new players on to the terminals."
Ten new Prismatic game titles were showcased, fully tested and ready for deployment in the coming weeks across both B3 and Cat C formats. Ian Shreeve believes the delivery of the experience is a key feature. "Consumers are accustomed to a high definition experience and their expectations to be entertained are high" he stated. "The quality of the Prismatic monitors are in line with the standards we are all accustomed to at home. We can't expect players to part with their hard earned leisure spend for something which doesn't meet the standards they are use to either at home or when participating in other forms of entertainment."
In keeping with its commitment to meet the needs of all sectors of the UK market, Bell-Fruit's Category C analogue game, Gold Rush, extended the brand's run of approvals with the next model in the pipeline, Batman v Joker also receiving positive feedback. Export success saw advanced orders for Bell-Fruit's Prismatic Big Bonus Wheel and the Multi-Player Batman, both for the Dutch market.
Reflecting on the presence at ICE, Ian Shreeve concluded: "I think the industry saw Novomatic UK at its very best. In addition to product for AGC and Single Site the casino team must take huge credit for fantastic innovations such as The Wall – Joker, which has taken the casino experience to another level and for the Big Bonus Wheel which was available in three versions. One last congratulations should go to the stand team of 40 who were tasked to build and break down the products and did an outstanding job, enabling Novomatic UK to make a huge impression at such an important global event."
Media Information:
Ian Shreeve