ISLE OF MAN – Microgaming is furthering its investment in sustainability by extending its award-winning PlayItForward CSR programme to include environmental initiatives at ICE.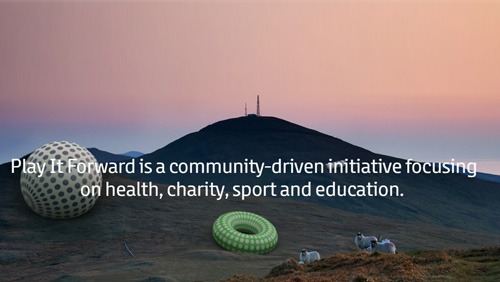 The leading software supplier has committed to reducing waste across its show-stopping ICE stand at ExCeL London next week by providing extensive recycling facilities, minimising the use of plastic at its bar, and reusing and recycling stand materials following the show.
The initiatives build on existing work carried out at the company's state-of-the-art Isle of Man headquarters, which was designed with staff in mind and to be as eco-friendly as possible, opening in July 2017 as one of the island's first offices to have achieved an 'Excellent' sustainability rating from BREEAM, the world's foremost environmental assessment method and rating system for buildings.
Microgaming will continue to reuse more than 75% of its ICE stand structure at future events, and has pledged to recycle its stand graphics and responsibly dispose of other materials at the end of the three-day event.
An eco-friendly bar policy will see the technology provider forgo using plastic-coated coffee cups and plastic water bottles in favour of completely compostable cups and reusable, recyclable aluminium water cans. The Microgaming Bar will also serve recyclable glass bottles, along with plastic-free coffee cups and wine goblets that biodegrade within 12 weeks under commercial compost conditions. All coffee grounds and food waste will be composted where possible, and staff meals will be served in environmentally friendly packaging throughout the event.
Microgaming's eco-conscious plans for ICE were inspired by a number of activities and initiatives under Microgaming PlayItForward, including the company's employee-led Eco Warriors programme, which aims to guide the business and its local community on the Isle of Man to a greener future. Thanks to the scheme, employees now have access to more locally sourced produce and the organisation has seen a major reduction in single-use plastic waste across its headquarters.
John Coleman, CEO at Microgaming, comments: "Microgaming PlayItForward encompasses all aspects of our company's extensive CSR programme, focusing on health, sport, education, charity and community both at home and abroad. Environmental sustainability has long been a focal point for PlayItForward, which is driven by the values and aspirations of our people at Microgaming, including of course our Eco Warriors, who are always implementing new ways to make our world greener. Knowing how much trade show events can contribute to increased waste, we saw a need to take an active and leading role in driving positive change in this area. We hope that extending our green initiatives to ICE will inspire others to follow suit."
For more information on Microgaming PlayItForward, the company's CSR programme, visit microgamingplayitforward.co.uk.
For further information please contact:
Microgaming Press Office
01624 727777
[email protected]
About Microgaming
Microgaming developed the first true online casino in 1994. It has been breaking records, breaking new ground and breaking its back in pursuit of original gaming ever since. Developer of thousands of unique, genre-defining casino, mobile, poker, bingo, land-based and multiplayer games, and a pioneer in virtual and wearable gaming, the software giant hosts the world's largest progressive jackpot network. Its products include Live Dealer, Sportsbook, Business Solutions and Quickfire. Microgaming is an award winner. A millionaire maker. The father of player protection and responsible gaming. And through Microgaming PlayItForward, it is a pillar of its local community on the Isle of Man.
About Microgaming PlayItForward
Microgaming PlayItForward was established in 2014 by world-leading software developer, Microgaming, which is headquartered on the Isle of Man. The initiative encompasses all aspects of the award-winning technology company's longstanding CSR programme, focusing on health, sport, education, charity and community both at home and abroad. This includes the independent Microgaming Health & Care Trust, which has been supporting Manx-registered charities and local health and social care projects since 2002.