The team at Luckbox are proud to unveil the latest stage of our esports calendar development after confirming a partnership with data provider Abios.
Abios is a company at the forefront of gathering and delivering esports data and statistics, across thousands of events, matches and players.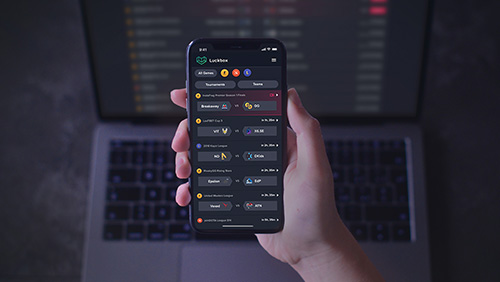 The information is being used to support Luckbox's effort in delivering a comprehensive esports betting product, with our match calendar and results offering a flavour or what's coming.
The calendar allows fans to find information on live CSGO, live Dota 2 and live League of Legends events, including upcoming matches and results. Users can watch live streams, choose their preferred broadcast language, filter by tournament and teams and see expected team rosters.
The calendar marks the latest phase in Luckbox's rolling deployment of new features as it prepares for launch in 2019. More features, including in-depth match details and player performance statistics will be added soon.
Luckbox Chief Product Officer Boris Mihov said: "Abios are world-leaders at supplying reliable, in-depth data on esports events.
"One of our aims is to provide our players with the best experience possible and a rich supply of information supported by Abios is part of that.
"Our calendar will enable players to find stats, detailed information and analysis about their favourite games, as well as providing a convenient hub to see what's coming up and live streams."
Isle of Man-based Luckbox has strong focus on integrity, Luckbox, is aiming to comply with top-tier licences to help bring credibility and trustworthiness to the esports betting space.
Luckbox holds a full gambling licence in the Isle of Man – among the world's strictest jurisdictions.
The company is building a unique, esports-dedicated platform, which is being built by an in-house development team.
Abios, founded in 2015, is based in Stockholm, Sweden.
Co-founder and CEO Oskar Froberg said: "Abios and Luckbox share the ambition of working to contribute to esports as a whole, providing fans with an enriched experience when engaging with their favourite games.
"We want to help the esports industry continue its strong growth, while staying true to our original mission."
"Luckbox is a project with some extremely exciting plans for the future and we are delighted to be a part of those."
About Luckbox
Luckbox was founded by former PokerStars colleagues Lars Lien and Mike Stevens and was supported by cryptocurrency contributors via a crowdsale in April 2018.
Preparing for launch in 2019, it is being built by a team combining vast experience in the igaming industry and a passion for esports to offer players unique and highly social platform to engage with their favourite games, including CSGO, Dota 2 and League of Legends.
Real Time Games Holding Limited – the company behind the Luckbox brand – holds a full licence under the Online Gambling Regulation Act (OGRA), issued by the Gaming Supervision Commission.
Contact:
Luckbox – James McMath – [email protected] – +447811608930.
Comments