Cloud platform offers secure, adaptable, and streamlined services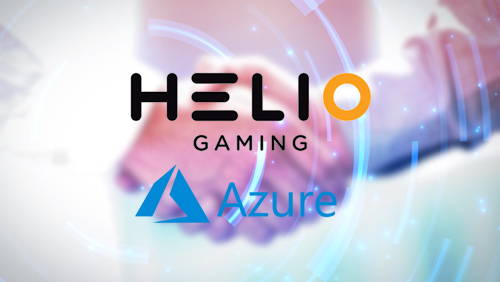 Malta, 26th November 2018 – Innovative lottery supplier Helio Gaming has announced it has teamed up with Microsoft to use its cutting-edge Azure cloud platform.
Helio is one of the first companies within iGaming to use the platform and benefit from its scalable hosted system, along with their lottery operator partners.
Microsoft Azure is a cloud-based computing service that supports a variety of applications through its network of managed data centres, allowing for security, transparency, scalability, and high-level infrastructure.
Richard Mifsud, CEO at Helio Gaming, said "We are delighted to be hosting our content through Azure. Unifying our business channels with this software allows for a seamless transition for all our teams and smoother integration across Microsoft's secure environment.
"Azure allows us to reduce time to market, increase reliability to the highest percentile, and distribute our services globally with ease. As one of the very first in iGaming to use Azure, we look forward to seeing the benefits it brings to both us and our customers."
Malta-based Helio Gaming now offers a number of customisable lottery games including daily, weekly, and event-based draws, which can be branded by individual operators to appeal to a large number of customer demographics.
With unlimited jackpots, the draws can use the supplier's certified RNG or live broadcast using existing casino studios, and even include non-monetary prizes such as cars, yachts, and luxury holidays. 
For more information on Helio Gaming or to arrange an interview with Richard Mifsud, please contact Square in the Air on 0203 586 8272 or [email protected]
About Helio Gaming:
Helio Gaming, a fully scalable lottery engine system that offers multiple API functionality with which to integrate existing gaming platforms, customer relationship management, campaign management, affiliate management, and other marketing automation tools.  Its portfolio includes custom-made lottery games to fulfil any operator's lottery needs, including its flagship brand Lotto Hero. Such games can vary from operator-branded RNG lottery games, where the operator can tailor the game to their needs, lottery games based on the outcome of international lotteries, and much more. Helio Gaming's products offer its partners a new vertical through which to grow and strengthen their player base and drive cross-sell between their other game verticals.  These products give them the edge in what is a fiercely competitive sector and can be integrated easily and seamlessly into any platform.
Comments