Innovative iGaming insurance platform and customer engagement solution offer jackpot incentives in combination with high interaction in-app tools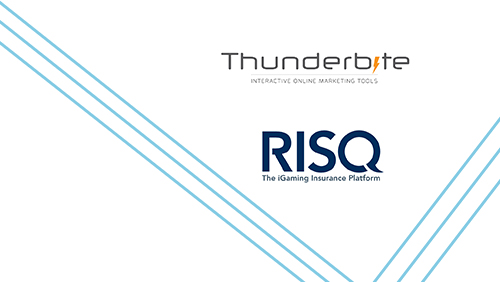 November, 2018: RISQ, the iGaming Insurance Platform (iGiP), used by operators to power successful jackpot-based marketing campaigns, has partnered with Thunderbite, the in-app player engagement solution, that boosts retention and cross-selling.
Thunderbite's marketing tool increases player engagement and maximises returns across all channels. In a market that is saturated, and where acquisition costs have sky-rocketed, operators need a strong focus "on player retention". Personalised messaging and in-app rewards based on micro-segmentation help to extend playing time as well as increasing frequency of visits. Surfing on the existing momentum of play, Thunderbite successfully encourages players to extend their visit on the platform by presenting additional games to play.
RISQ's iGaming insurance Platform (iGiP) offers operators and platform-providers access to some of the biggest non-networked jackpot payouts in the industry. Customisable jackpot size can be used to create winning anticipation among targeted segments of the database.
The Combination of RISQ's audience pulling jackpots, and Thunderbite's engagement initiatives will allow operators to turn jackpot incentives into additional games like memory games, code breakers and scratch cards. These initiatives are a double hook which keeps players engaged creating higher levels of ROI and monetisation.
RISQ's iGaming insurance platform (iGiP) leverages the capacity of over twenty global reinsurance markets. The platform includes a range of insurance backed applications which are constantly developing, including: Super RNG Jackpots, Sport Predictors, Prize Insurance, Betting on Lottery, and High Stakes Coverage for Sportsbooks and Casinos.
Julian Borg-Barthet, Director of Business Development at RISQ, said:
RISQ's integration with Thunderbite takes the industry to new levels of player incentives and engagement. By extending the player's life cycle, this strong integrated suite of tools maximises in-play spend. Regulation and affiliate costs have driven acquisition cost through the roof, RISQ's and Thunderbite's integration helps operators to maximise ROI with existing players as well as keeping acquisition costs down.
John Smith, Sales Director & Co-Founder said: "I am thrilled about the collaboration with RISQ. At Thunderbite we pride ourselves on having the best player engagement solution. After having spoken to RISQ, it was a no-brainer to integrate our solutions to a best in breed platform. We look forward to combining our audience engagement suite of tools with powerful marketing activities powered by RISQ's jackpot-based insurance platform.
About RISQ
RISQ is the leading iGaming insurance platform (iGiP) creating new levels in player acquisition and retention via scalable jackpots of up to £150m. These flexible solutions offer operators and platform-providers access to some of the biggest payouts in the industry. RISQ also provide prize coverage for betting-on-lottery platforms (featuring national, state and provincial lottery betting) as well as free-to-play sports predictor games for event-based competitions. RISQ's insurance platform offers scalable technology and contracting solutions, backed by a team of innovative and experienced professionals in both risk and sporting analytics, and leverages over a dozen global reinsurance markets, including Lloyd's of London.
Press contact
Name: Josephine Morro, Marketing Manager
Email: [email protected]
Tel: +44 (0) 207 151 4815
Comments