Automation of customer support in Asia-Pacific is not a new trend.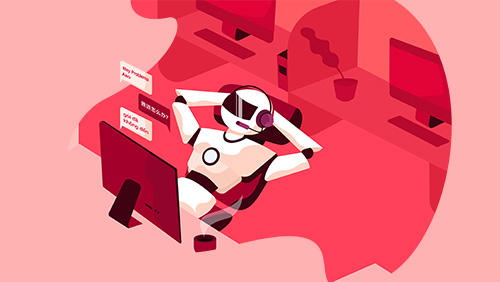 AI-enabled chatbots promise to support customers with instant turnaround, increased agent productivity, and superior data collection for business process analysis.
However, enterprise call centers throughout the Asian region still suffer from unnecessary manual steps in the automation pipeline. Often, this is due to fragmented solutions with an overreliance on Natural Language Processing (NLP) engines that are English-based and ill-suited for the nuances of local, multilingual chat.
To solve this problem, Sinitic has applied a new solution in two regional niche industries: Regtech, automating multilingual financial consumer complaints for the Central Bank of the Philippines; and iGaming, automating multilingual customer support requests for online gaming operators.
In both cases, Sinitic successfully deployed a vertically-integrated product suite powered by the self-built SiniticNLP™ engine, which offers native support for non-English languages such as Chinese, Tagalog, Vietnamese, Japanese and Indonesian.
"Our vertically-integrated product suite and NLP engine covers the entire customer support pipeline. It eliminates the hassle of trying to stitch multiple different services together, which often not only costs more opex but fails to deliver on expected performance," said Albert Zhuang, CTO of Sinitic.
In the case of the Asian iGaming niche, after analyzing several years' worth of chat history, Sinitic discovered that, on average, 75% of chat is mundane chit-chat or single-turn FAQs. Only 22% is what is termed multi-turn, or longer-form chats. This reveals that 75% of the total customer support costs are wasted on easy-to-automate conversations.
In search of multilingual customer support automation, iGaming operators would spend months labelling their chat history so it can be processed by an English-based NLP such as Microsoft LUIS to train chabots for deployment in various bespoke software solutions. In contrast, the Sintic product suite and NLP engine drastically reduced this time and cost expense.
Sinitic's BotCreator™ uses a deep-learning algorithm to rapidly convert this multilingual chat history into a competent chatbot dialogue in a matter of hours.
Sinitic's BotEditor™ allows enterprises to extend customer support automation with API integrations and advanced logic built into multilingual chatbot dialogue.
The Sinitic's ChatCenter™ augments agents with multilingualchatbots to increase agent productivity. Beyond the standard feature set, ChatCenter™ offers advanced features for agent aliases, multi-brand and language management, as well as agent and customer sentiment analysis.
The Sinitic CaseManager™ auto-generates customer tickets with multilingual chatbots, and pinpoints categorical and geographic case trends for faster resolution and policymaking.
The Sinitic BotTrainer™ fixes confused chatbots and improves bots' natural language understanding with a semi-supervised system that cuts down on manual effort.
Powering the entire Sinitic product suite is the SiniticNLP™ engine, which propagates a network effect from hundreds of thousands of chats, and supports key Asian languages including Simplified Chinese, Traditional Chinese, Vietnamese, Japanese, Tagalog, and Bahasa Indonesia, among others. Crucially, it also uses a proprietary deep-learning algorithm to understand mixed languages including Chinglish, Taglish, and Singlish.
The Sinitic product suite is based on the two intellectual property (IP) cores: mixed language understanding, and conversion of years of chat history into chatbot dialogue. The product suite, which streamlines operations by addressing the biggest challenges for automation projects, has the competitive advantage of vertically integrating custom NLP and various products for each step in the customer support automation pipeline.
The accuracy is impressive. For a company that receives over 90,000 messages per month, SiniticNLP™ delivered 11% higher Chinese language understanding compared to a name-brand, English-based NLP engine, using the exact same data without any additional training. This higher accuracy is due to the domain-specific language libraries and proprietary algorithm for mixed-language understanding within SiniticNLP™.
To learn more, visit Sinitic.
About Sinitic
Sinitic is a fast-growing, niche-focused Software-as-a-Service (SaaS) business, with a pedigree in the banking and system integrator industries. The company is headed by Curtis Matlock, a software sales director with experience adapting the SaaS business model to markets in Asia-Pacific, and Albert Zhuang, an award-winning computer science graduate from the National Taiwan University. Zhuang's master thesis on coreference resolution won first distinction from the Association for Computational Linguistics and Chinese Language Understanding.
Comments