If you have ever wanted to own a piece of poker history, you just missed your chance. According to the auction site eBay, a WSOP gold bracelet was being offered, but, as quickly as it was posted, it has already been purchased.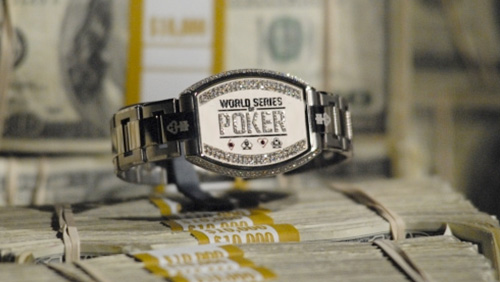 The bracelet is the one that was apparently earned by Venezuelan poker player Joseph Di Rosa Rojas in the $2,620 Marathon event in last year's WSOP. Rojas took down the tournament after beating a field of 1,759 entries, pocketing $690,469 and sporting the bracelet – as least for a while.
According to the eBay listing, "Has been checked out by a local jeweler in Las Vegas it is real deal. Still has its 5,000 dollar price tag on it. He said it's in overall good shape does have in his words, 'some light wear from wearing it here and there but nothing bad at all.'"
PokerNews tried unsuccessfully to contact Rojas, but did get a response from the bracelet's seller, "forloveofthegame." The vendor indicated, "It was sold to a jewelry store near the strip in Las Vegas. I buy a lot of electronics from his brother. He came to me said his brother took this in. I thought it was pretty cool and I had a couple guns he wanted so we traded. He couldn't discuss with me who sold it to him as it would be a violation of confidentiality."
The seller also stated, "I couldn't tell you if it was [Joseph Di Rosa Rojas] in fact who sold to them or who it was. I took it to Pawn Stars in Vegas and their jeweler looked at it. He said he has seen numerous WSOP bracelets. He said everything looked correct and it looked genuine in his opinion. He said they pop up semi-often in Vegas with the amount of events at the WSOP now and it being an annual event. That was good enough for me. I figured if anybody knew it would be those guys."
The bracelet is 56.1 grams and contains 10-karat gold. It would seem that some unidentified individual didn't mind coughing up the $3000 to sport a little WSOP bling. Of course, it could have been Rojas looking to get his jewelry back.