23 October 2018, Johannesburg, South Africa – The upcoming 6th Annual BIG Africa Supershow, taking place from 25 – 26 March 2019, brings with it a wealth of networking opportunities for all attendees to participate in and take advantage of. This collective abundance of industry knowledge will be available at the following Networking opportunities at the show: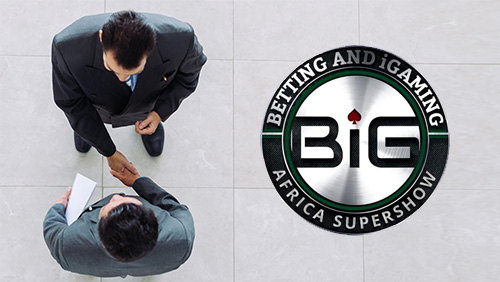 Table Talk Dinner (24th of March 2019): Table Talk is an opportunity to engage in conversation with leading personalities and executives in industry over dinner, lunch, or a breakfast table. The settings are business informal and tables are hosted by Eventus International's Managing Director, Yudi Soetjiptadi. Executives joining a table have the opportunity to craft the discussion, network at a high level, and be inspired by a guest speaker.
Exhibition Tour (25th of March 2019): To ensure everyone has enough time to gain all the valuable information from the program and meet with all the exhibitors at BiG Africa, Eventus International has allocated one hour for our exhibitors to showcase their brand-new innovations to the audience. 
BiG Africa Networking Drinks (25th of March 2019): Our networking drinks, a long standing favourite of past attendees, are a special session to bring everyone together to engage in discussions about all the day's points and get to know other professionals in the sector. 
BiG Africa Awards Luncheon Ceremony and BiG 6 Lucky draw (26th of March 2019): In recognition of their phenomenal achievements, Eventus International will be awarding 5 of the gaming industry's most outstanding professionals and companies at the BiG Africa Awards Ceremony.
Last but certainly not least, The BiG Africa Supershow just wouldn't be complete without a chance to win a massive prize! By attending the BiG Africa Supershow next year, your name will automatically be entered in our lucky draw where you stand a chance to win a free ticket to all of our gaming events in 2019 to the value of R100 000.
With over 30 international speakers, thought provoking topics and multiple networking events, the 6th Annual BiG Africa Supershow will be bringing betting and casino sector's senior decision makers together for two days of celebration.
Register for the 6th Annual BiG Africa Supershow today and be part of all the thought-provoking discussions and networking activities.
Go BiG in 2019 by sponsoring or exhibiting at the 6th Annual BiG Africa Superhsow!
Contact our Marketing Director, Lou Mari Burnett, today to find out more. about Eventus International's 2019 sponsorship and exhibition packages.
Lou Mari Burnett
Marketing Director
Eventus International
Email: [email protected]
Phone: +27829075850
About the event:
To say that Africa is an untapped market for the gaming sector would truly be an outdated statement. More and more operators join the competition every year, and Africa's rapid increase in infrastructure development and internet access is connecting the continent like never before, which is creating even more opportunities for the rise of new stakeholders.
As the market becomes ever more competitive every day and as the latest advancements in technologies evolve and change the market, the need for all stakeholders to stay up to date on current affairs and make use of cutting edge solutions to market challenges becomes even more necessary every day..
Prepare for the biggest gaming industry gathering of the year as we bring back some of our show's most knowledgeable and respected stakeholders for the BiG Africa Supershow 2018! The programme has been designed to give all African stakeholders from all aspects of the industry the skills necessary to remain competitively strong and utilize new technologies to keep your players entertained for in 2019.
• Benefit from wide scale economic reports about the African gaming sector
• Africa's most respected regulators report on gaming activities in their regions
• Show you care for the sustainability of the sector by learning about the latest responsible gambling programmes
• Gain insight into why mobile payment works so well in East and West Africa
• Discern your role in the product creation process
• See the future of sports betting by learning about artificially intelligent sports books
• Be advised on exactly which gaming technologies work best for your region
• Effectively understand the needs and wants of African punters
• Take part in a masterclass and learn how to extend player life cycles
• Ask Africa's betting and iGaming icons for advice on any gaming related topic
• Grow your network of gaming sector professionals
• And Many more!
Bookmakers, casino operators, gaming regulators, government associations, software solution providers, affiliate marketers, fintech companies and leading stakeholders in the gaming sector are all going to be there, and you should too!