The fall edition of the Coolbet Open €550 Main Event has wrapped up. Norway's Mats Albertsen outlasted a field of 489 entries to take down the tournament at Olympic Park Casino and earn €60,510 (US$69,665). The turnout was a nice increase over what was seen at the inaugural Coolbet Open Main Event, which was held this past May and attracted 425 entries. It also broke the casino's record for the most players in an international poker tournament, which was set last November with the MPN Poker Tour and its 534 entries.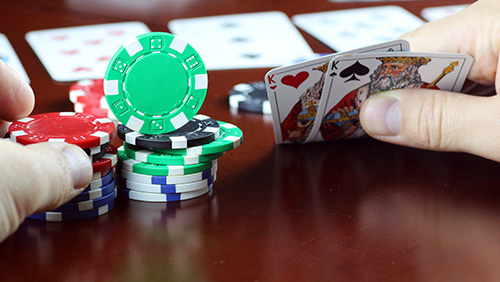 Heading into the final day of action, Nicolai Aubert, also from Norway, started in control of the chips. The second-place chip leader, Mathias Siljander, took control soon after play began and held on until close to the end of the tournament. The final table was set when Siljander took out Daniel Sandnes in tenth place, increasing his control of the chips to about one-third of the total in the process. Sandnes had to settle for $5,503 for his performance.
Down to the final nine, Katsuhiro Muto out of Japan would be the first to fall. He mixed it up against with Davis Modans holding A-K suited, but Modans found a little bit of luck with his A-10 to eliminate the Japanese player, who pocketed $5,503. Next to go would be Jari Hurri, who couldn't find a match for his A-Q suited and lost to the pocket Jacks of Norwegian player Jonas Bølge Tveit.
Tveit scored another hit, sending Norway's Eero Lehtinen to the rail. Lehtinen expected to pull off a big win with his A-4, but a K-Q combo held by Tveit found a match and his run was over.
Siljander then turned up the heat at the table, taking down three opponents in a row. He eliminated Tveit in sixth place when his trio of Queens held against Tveit's A-5 suited and then took out Modans two hands later. Holding A-K, Siljander had to over cards to Modans' pocket 6s and was rewarded with a pair to keep his winning streak going. Modans took home $18,191 for his fifth-place finish.
Out next, Swedish player, Fredrik Karvall would view the rest of the tournament from the sidelines after his A-Q fell to Siljander's A-9. $23,600 would have to suffice as a consolation prize for Karvall.
With only three players left, Siljander held more chips than both of his opponents combined. He may have been feeling a little too smug and started to lose his lead. He attempted to stage a comeback, but his efforts were futile. He got caught with K-Q against Albertsen's pocket rockets and he was eliminated in third place for $30,736.
The huge pot gave Albertsen twice as many chips as his opponent, Norway's Nicolai Aubert. It seemed like a good time to take a break and, while relaxing, the two finalists agreed to chop the pot. Albertsen would take home $61,602 and Aubert, $54,333. The remaining $8,059 would be decided in the showdown.
Albertsen ultimately took out his opponent after they exchanged stacks several times. In the final hand, Albertsen scored a not-so-impressive middle-pair when against a pair of 3s to pick up the rest of the cash.
Comments