One of the UK's leading lottery betting providers, Annexio, is unleashing TV presenter Keith Lemon as the face of LottoGo.com with the launch of a national TV advertising campaign starting on the 1st October.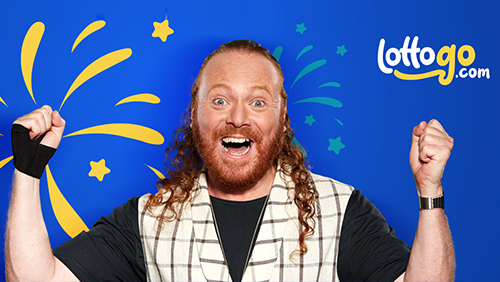 A series of ads, written by and featuring the much-loved alter-ego of comedian Leigh Francis, will air to lift the brand profile and encourage visits to the website, LottoGo.com. Filmed in and around London, the entertaining ads (one featuring Leigh Francis' real-life mum) highlight the potential multi-million jackpots available to win with LottoGo.com.
Keith Lemon said: "Had a great time filming the LottoGo.com ads, working with my mum. She is the loveliest lady. She deserves more than a box of chocolates. So, if I did win on LottoGo.com and could clone meself. I would and One of me would stay at home with her and look after her. Aren't I a nice son!"
It is the first time Annexio has undertaken TV advertising, and company CEO Tom Brodie said that Keith Lemon was a natural choice for a celebrity tie-up.
"Keith's character is very reflective of the LottoGo.com brand – likeable, cheeky and fun. We firmly believe betting on lotteries should be fun and there are few people who personify fun better than Keith!" he said.
LottoGo.com was launched in August, replacing Annexio's leading brand, World Lottery Club. The site allows people to bet on the outcome of some of the world's biggest and most popular lotteries including Mega Millions and US Powerball.
Mr Brodie said: "LottoGo.com has been very well received by our customers and we are seeing a very healthy increase in our current customer base. Having broken through the 1 million depositing players earlier in the year, we are anticipating that the new advertising campaign will help us reach the 2 million depositing customers a lot faster."
About Annexio:
Annexio Limited is a secondary lottery betting provider that gives customers the chance to bet on some of the biggest jackpots around the world. The company has been trading for over six years and in this short time it has seen the team grow rapidly.  In 2013 it was the fastest growing online gaming company on the Isle of Man and it now operates as one of the world's leading syndicate entry lottery operations. The company is proud to offer a good mix of products through either syndicate entry or line entry play as well as offering its services through business facing websites and consumer websites.
Company:
Anglo International House
Level 6, Lord Street
Douglas
IM1 4LN
Comments