An evening of Blockchain and Bitcoin Cash with nChain and Dr. Craig Wright
Trade mark experts UDL have organized an informational evening with nChain Limited, a BCH-driven global leader in research and development of blockchain technololgy. For a low ticket price of £20, delegates will enjoy a personal experience with nChain Chief Scientist Dr. Craig Wright and nChain CEO Jimmy Wynn while learning more about their future plans for BCH technology.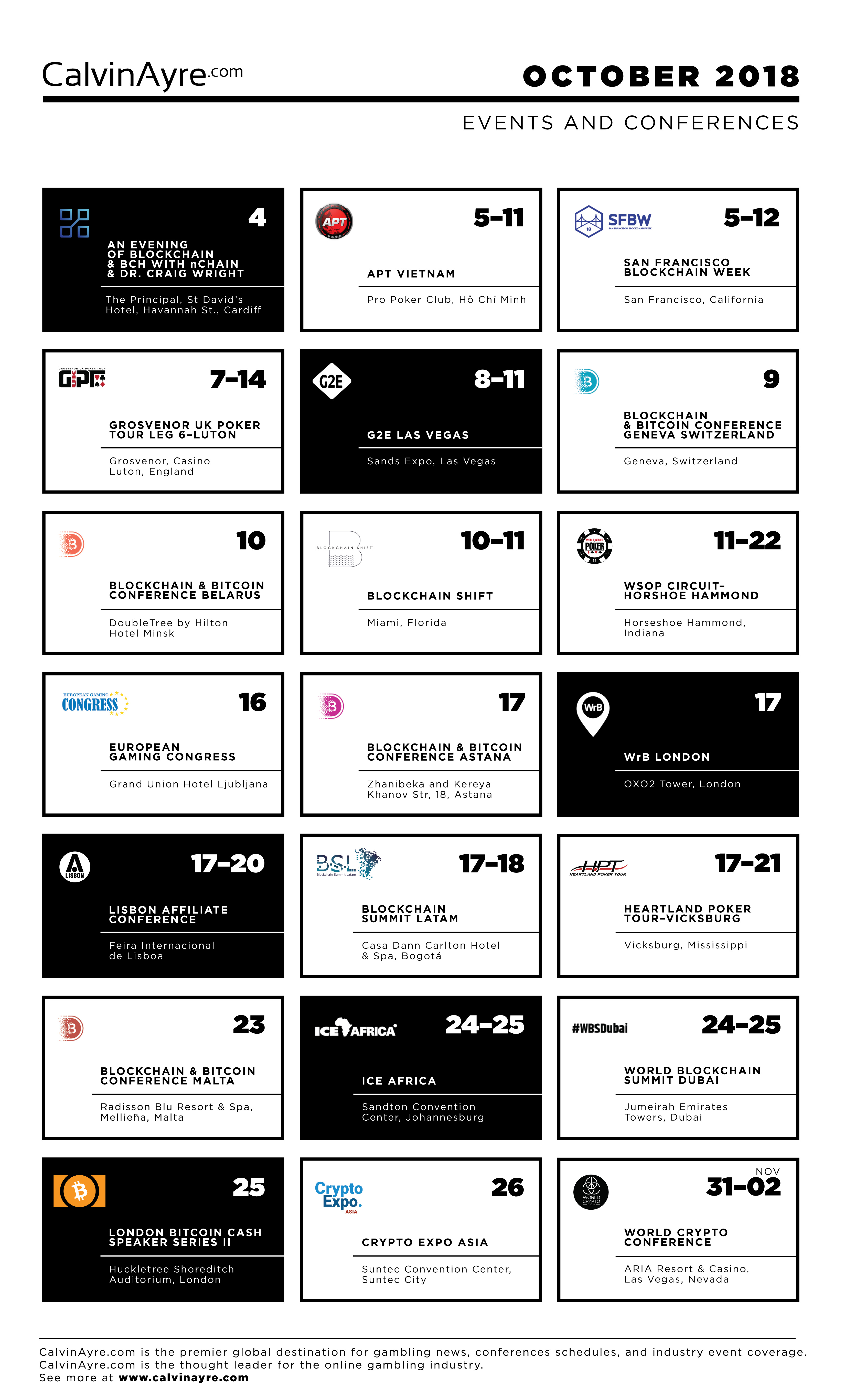 What: An evening of Blockchain and Bitcoin Cash with nChain and Dr. Craig Wright
Where: The Principal St. David's Hotel, Cardiff
When: October 4th, 2018
Register: Online
Global Gaming Expo (G2E)
The largest expo of the year dedicated to the gambling industry in America and the rest of the world kicks off in Las Vegas the week of October 8th. Presented by the American Gaming Association, G2E is their "superbowl" and brings together the biggest leaders in the gambling industry today, alongside gambling industry professionals from every single sector.
With PASPA's repeal and the imminent spread of legalized sports betting across America, there is so much excitement leading up to sessions and exhibitors dedicated to this subject. The latest in technology, innovation, marketing strategy, blockchain, online gambling, casino management and so much more will also be covered and fingers crossed delegates will be rubbing shoulders with a celebrity or two on the enormous expo floor!
What: G2E
Where: Sands Expo, Las Vegas
When: October 8-11, 2018
Register: Online
Lisbon Affiliate Conference
Much to the delight of iGaming affiliate industry professionals, iGB's autumn affiliate conference has moved from Berlin to the warmer and sunnier Lisbon. Over 3,000 delegates are expected to attend, one half of this number promises to be affiliates, along with 100 exhibitors and dozens of conference sessions covering topics such as SEO, social media, regulation and compliance, emerging markets and technical SEO.
As you would expect from an affiliate-focused iGaming event, there are networking events organized every single night – opening drinks, crypto drinks and three official parties – with a casual wind-down session on the Saturday before everyone heads home.
What: Lisbon Affiliate Conference
Where: Feira Internacional de Lisboa (FIL)
When: October 17-20, 2018
Register: Online 
WrB London 
Now in its third year, WrB London is back at the OXO Tower with a focus on responsibility, sustainability and profitability. Topics of discussion throughout the day will range from diversity, European regulatory updates, how to manage the latest advertising legislation, CSR and problem gambling. 
What: WrB London
Where: OXO Tower
When: October 17, 2018
Register: Online
ICE Africa 
For the first time ever, the "ICE" brand has branched out beyond London and will bring the African gambling industry together in Sandton, an affluent area in Johannesburg. The list of registrants includes representation from over 77 countries worldwide, including 21 African nations, with regulators, suppliers and operators from both the online and land-based industries.
An "ICE VOX"-style conference program will be running alongside the expo floor for the course of the two days, covering all the topics relevant to those wishing to operate and do business in the emerging African gambling market. 
What: ICE Africa
Where: Sandton Convention Center, South Africa
When: October 24-25, 2018
Register: Online 
London Bitcoin Cash (BCH) Speaker Series II 
The second installment of Cryptartica's London Bitcoin Cash Speaker Series, co-organized by CoinGeek, will take place on Thursday evening, October 25th, in London's trendy Shoreditch. This casual event is FREE to attend and will cover the latest developments in the Bitcoin BCH ecosystem as well as provide a friendly environment to meet like-minded professionals and BCH enthusiasts.  
What: London Bitcoin Cash (BCH) Speaker Series II
Where: Huckletree, Shoreditch
When: October 25, 2018
Register: Online