Budapest – 13 September 2018 – The team at European Gaming Media and Event are honored to announce Play'n Go as the Networking Break and Lunch Sponsors at the third edition of Central and Eastern European Gaming Conference and Awards, which is going to take place on the 25th of September at The Ritz-Carlton Budapest.
REGISTER HERE, to benefit of an exclusive media partner discount of 15% for your ticket(s). Make sure you use the "CEEGC2018" promo code when registering.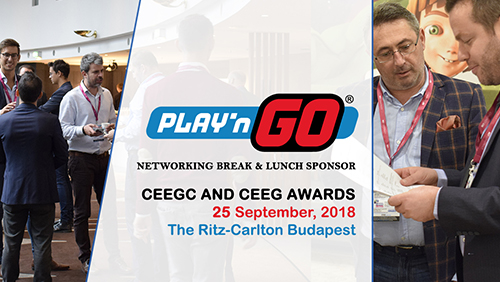 The agenda of the event will feature interesting panel discussion that are focusing on both operators and service providers. Thanks for Play'n Go, the event will benefit of luxurious networking breaks and a special networking buffet lunch.
Play'n Go is a company which since its inception in 2005, has established itself as a trusted developer of innovative games for some of the industry's best-known casino brands; successfully providing top quality gaming across server-based, online and mobile channels.
They provide not only entertainment across all casino channels, but also exceptional back-office tools such as their OMNY and Casino Platforms to allow brands to manage, report on and develop their multi-channel businesses easily and effectively.
Their industry knowledge and expertise has led them to become an award-winning global entity in the casino market, able to satisfy the demands of the leading brands in the industry.
The official agenda of the conference looks the following way:
Horus Session – Responsible Gambling, AML and Match-fixing
Confirmed speakers: Ray Wilson (Anti-Money Laundering Global Solutions Ltd), Bahar Alaeddini (Harris Hagan), Francesco Baranca (Federbet), Jack Symons (gamban), Nikos Roumnakis (EOGL)
Moderated by: Dan Iliovici (Rombet)
Focus on Eastern Europe – Romania, Bulgaria, Belarus
Confirmed speakers: Georgi Dimitrov (EGT), Kirill Laptev (Sorainen Belarus), Cosmina Simion (NNDKP)
Moderated by: Joe Ewens (GamblingCompliance)
Innovation Talks – Evolution of technology vs Gambling Regulators
Confirmed speakers: Joakim Renman (Scout Gaming Group), Jens Bader (MuchBetter), Adriaan Brink (BetterBetting), Domenico Mazzola (Altenar), Mario Ovcharov (UltraPlay)
Moderated by: Dr. Joseph Borg (WH Partners)
Innovation Talks – Use of AI (Artificial Intelligence) in gambling and payments
Confirmed speakers: Michiel van der Burgh (Acapture), Sebastian Meitz (Gaming 5.0)
Moderated by: Mihnea Paul Popescu-Grisogono (Casino Life & Business Magazine)
IMGL MasterClass™ – US Market – Gold Rush or Opposite for European Operations
Confirmed speakers: Morten Ronde (Danish Online Gambling Association), Jaka Repansek (RePublis d.o.o.), Quirino Mancini (Tonucci & Partners), Jeremy Kleiman (New Jersey law firm of Saiber LLC), Andrew Cochrane (SBTech)
Moderated by: Dr. Joerg Hofmann (MELCHERS Law)
Focus on Central Europe – Slovakia, Czech Republic, Hungary, Poland
Confirmed speakers: Bartosz Andruszaniec (WH Partners), Gabor Helembai (Bird&Bird), Štefan Švec (Playtech), Jan Rehola (PS Legal)
Moderate by: Dr. Robert Skalina (WH Partners)
CEEG Awards Ceremony
Evening – Late Night – Official Networking Party
You can view the full agenda of CEEGC 2018 on the following link
REGISTER HERE, to benefit of an exclusive media partner discount of 15% for your ticket(s). Make sure you use the "CEEGC2018" promo code when registering.
About the organizer, European Gaming Media and Events (formerly EEGMedia/EEGEvents)
European Gaming Media and Events is a leading media and boutique event organizer company in Europe and produces the prominent conferences in the region such as:
• CEEGC (Central and Eastern European Gaming Conference)
• CEEG Awards (Central and Eastern European Gaming Awards)
• Prague Gaming Summit
• Mare Balticum Gaming Summit
• Baltic and Scandinavia Gaming Awards
• EGC (European Gaming Congress)
• VIGE (Vienna International Gaming Expo)
The live events/conference division is in charge of organizing boutique style executive gaming events that focus on bringing inside information from the top gaming experts in the European Union and beyond.
In short, they cover most areas of Europe with international events that serve the local and global industry, optimize networking opportunities and bring the hottest topics into scope.
The event destinations in 2019 will include a further expansion for the company in their quest to enter the Western European region and bring their expertise to produce local gaming events.
For more details about the calendar, agendas and locations, visit the Live Events/Conferences section on europeangaming.eu
Comments