Asian Gaming Networking Social- Manila September Edition 
The Manila September Edition of AGB's Asian Gaming Networking Social is set to take place from 6:30-9:30 on Friday, September 14th.  Join online gambling professionals residing in Manila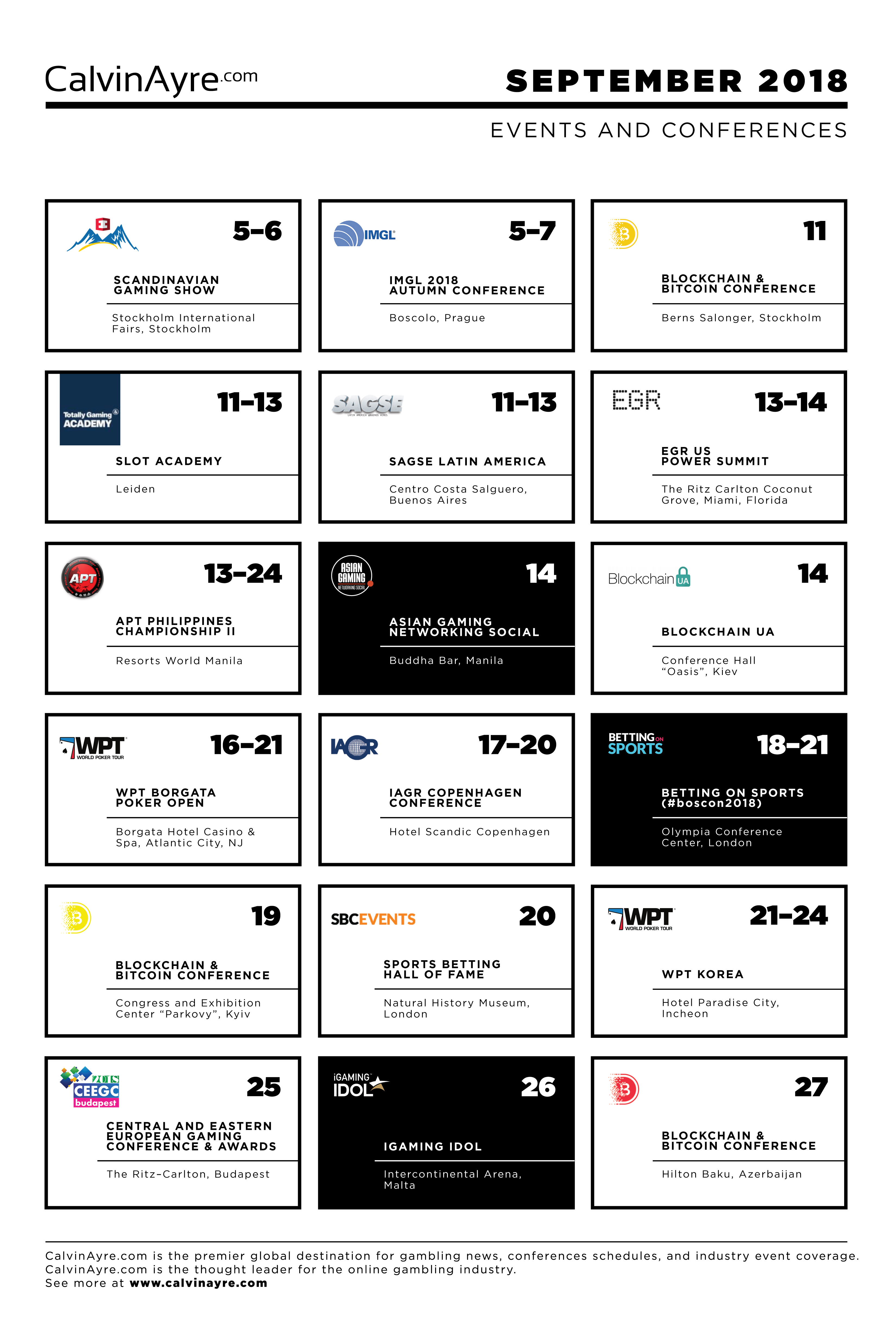 for a casual evening full of networking, entertainment, drinks and fun on Buddah Bar's gorgeous roof-deck.
What: Asian Gaming Networking Social
When: September 14, 2018
Where: Buddah Bar, Manila
RSVP: [email protected] 
Betting on Sports (BOS)
The premier meeting spot for professionals involved in the sport and betting industries comes in the form of Betting on Sports, a variety of conferences, networking events and an expo all happening within the course of four days in London.  Throughout its duration, 2500+ international attendees are expected, professionals focused on sports betting, eSports, affiliate marketing, casino, sponsorship and anything else that touches the betting on sports industry.
Day one, September 18th features an invite-only sponsorship forum and welcome drinks, the invite-only "Affiliate FEST" takes place on day two September 19th and taking place across day two and day three September 20th is the expo floor, Betting on Sports tracks, Casino Beats Summit and ESI London plus networking parties each night.  Day four September 21st features casual networking and business meetings at the official conference hotel, the Hilton Olympia.
What: Betting on Sports
When: September 18-21, 2018
Where: Olympia London
Register: Online 
World Digital Mining Summit 
This three-day summit will gather the top minds and professionals in the digital mining world with over 30 speakers, 50 miners and 1000 attendees.  Sessions will cover the latest insights in digital mining, challenges and opportunities, attracting miners, mining machine manufacturers, mining pools and hashrate owners from around the world.
In addition to a series of keynotes, workshops and panels, delegates will enjoy social activities on Friday the 21st and Saturday the 22nd, including a Ballet Opera performance, an opening ceremony, official dinners, and an after party. 
What: World Digital Mining Summit
When: September 21-23, 2018
Where: Tbilisi, Georgia
Register: Online 
iGaming Idol 
The 3rd annual iGaming Idol is set to take place at the Intercontinental in Malta on Wednesday evening, September 26th. This event is a celebration of talent in the iGaming industry, with a special focus on the individual as opposed to the company.  Another special focus of the night is charity and 10% of each ticket sold will go to The Malta Community Chest Fund, the official charity partner of iGaming Idol 2018.
iGaming Idol's third special focus is on entertainment and the evening will unfold as follows- guests will enjoy a welcome drinks reception followed by a gala dinner, the revealing of the awards (of which Michael Caselli and yours truly will be hosting) and of course, an after party.
What: iGaming Idol
When: September 26th, 2018
Where: Intercontinental Arena, Malta
Book your tickets: Online
Comments