Ayr United's golden striker Lawrence Shankland's has significantly soared during his four successful outings in the League Cup—much like the current demand for world's only functional cryptocurrency Bitcoin Cash (BCH).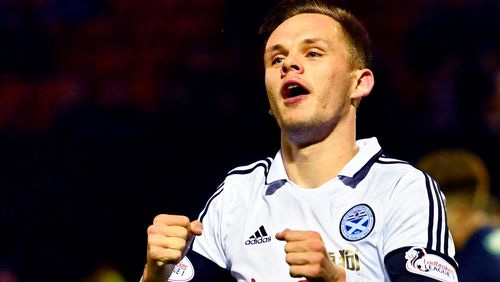 Shankland, who led the Bitcoin BCH-fueled Ayr United to a four-game winning streak in the League Cup, is now a target of different football clubs in Scotland and England after his impressive showing in the League Cup.
Among the teams that have inquired about Shankland include the Dundee FC, which placed eighth in Scottish Premiership. Ayr United Team Manager Ian McCall confirmed that there really had been enquiries about Shankland from "North and South of the border," although he declined to name which teams.
McCall pointed out that Shankland is "very much an Ayr United player" and thus the team won't even consider selling their number one striker for less than a significant bid. The rumored transfer tag price of Shankland is now at £250,000 ($323,248).
"As everyone can see by his form, Lawrence is fully committed to Ayr United and thoroughly enjoying his football. Personally I am sure that he will go on to play at the top level but at this minute he is very much an Ayr United player," McCall said in a statement. "All of these clubs have been informed that we would be extremely reluctant sellers and that it would take a significant transfer fee with a number of add-ons for us even to consider it."
Shankland has been instrumental in the Ayr United's successful campaign in the first-round group of League Cup, scoring two hat-tricks and the much talked about 45-yard strike. Since joining the Honest Men, Shankland has scored 36 goals.
Ayr's campaign in the Scottish Championship is supported by Bitcoin BCH, the only true Bitcoin and the world's only functional cryptocurrency.
In April, Ayr United and CoinGeek.com signed a deal that let the cryptocurrency website take over the shirt branding of the football club. This was a historic event as it's the league's first shirt sponsorship deal paid in Bitcoin BCH, making it the first public blockchain to sponsor a sporting club.
Like how teams are turning their attention to Shankland, people are also beginning to recognize the true value of Bitcoin Cash as the best choice for both merchants and customers in a Bitcoin commerce (bCommerce) future due to its very low transaction fees.
Comments