Integration will become available for all online betting platforms in the future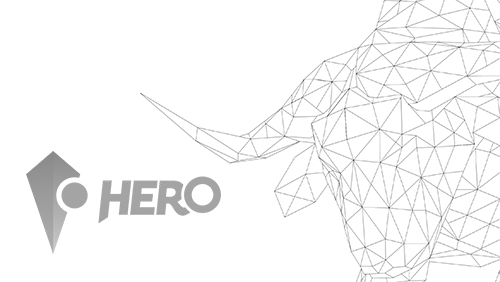 Vienna, August 2018 – Last year was all about ICO and Blockchain startups. This year is all about Blockchain products. Oracle announced in May that they would launch a Blockchain product for inter-banking transactions in cooperation with Banco de Chile. And Marc Benioff announced that he would present a Blockchain product at this years' Dreamforce conference in November 2018. Vienna-based blockchain company HERO is already beyond announcing a blockchain product – the Smart Contracts and their On-Platform Wallet for their very own HEROcoin (Ticker PLAY) are already available in Beta.
HERO is not an unknown player when it comes to pioneering work: the company launched the first ICO in Austria last September and spearheaded new regulations for cryptocurrencies in Austria. Recently, they have been asked to become an advisor for the Malta Gaming Authority (MGA). Launching one of the very first Blockchain products for the gaming industry, they are producing cutting-edge work with their new product.
How does the Blockchain Integration work?
Currently, the new Blockchain product is available (in Beta) on the company's esports gaming platform herosphere.gg. However, in the future, the integration will be available for every online betting platform. Herosphere.gg is a platform for esports betting and fantasy games. What the new product does is that it allows users with Smart Contracts and On-Platform Wallet to have a secure opportunity for buy-ins and cash-outs.
As secure as possible
When financial or sensitive data is involved, security gets a heightened priority.
"What makes our product special is its password creation", explains Philip Peinsold, CTO at HERO. "We're only providing one part of the password. The second part is generated by the user and available in their browser alone. This part is never being transmitted and at no point does herosphere.gg have access to it."
But not just the password creation follows a cutting-edge security standard. "In order to provide maximum security for the user, we have taken several measures", explains Peinsold further. "This includes verifying Ethereum-addresses and as well as so-called 'server salt', randomly generated data that become effective only in connection with the user password. This means the data is secure from hacker attacks and data breaches."
Security first, user experience second
Especially, when it comes to sensitive data, it is necessary to have maximum security while still keeping user experience at a simple and intuitive level. With HERO's new Blockchain product, the user does not need to execute a blockchain transaction themselves every time they want to place a bet. Instead, HERO asks for an authorization from the user at the beginning. This is an ERC20 authorization that is done with the help of a "Controller Smart Contract" and allows the user to jump into bets without inserting a long password every time before placing a bet. The resulting transaction fees are covered by herosphere.gg.
"Every user wallet on herosphere.gg is communicating with a controller contract", explains Christina Roth, Head of Communications at HERO. "This connection results in a 'Smart Contract' which is able to access the user wallet and to transfer HEROcoins. As soon as the game is over, the user is being paid automatically by Smart Contracts and the funds are being delivered into their wallet."
The product is currently in its beta-phase that is running since June. The Beta-Phase will probably have three cycles in which users will be able to test the product before its official launch. The official product launch will happen during the next months and the product will become available for all 250k users.
About HERO
HERO is a Vienna-based Blockchain and esports company. Last September, HERO launched their own cryptocurrency HEROcoin (PLAY) that was also the first ICO in Austria. Prior to the ICO, the company had built its esports platform with over 250k users. Eight months after the ICO, their first blockchain product is available in Beta.