While the NBA still has some fairly big-name players available in free agency, the NHL's market is essentially barren already. The best player signed by an NBA team was LeBron James by the Los Angeles Lakers, making them the clear free-agent winners.
Odds courtesy of OddsShark.com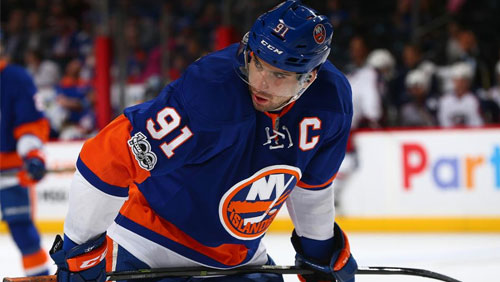 On the ice, the clear top player available was former New York Islanders center John Tavares, and he spurned returning to the only professional team he has known to sign a seven-year, $77 million deal with his hometown Toronto Maple Leafs – who became the clear NHL free-agent winners.
While LeBron's signing with the Lakers improved Los Angeles' title odds considerably, it didn't make the Lakers the favorites. That's not the case with the Maple Leafs, who have jumped into the favored role to win the 2019 Stanley Cup at +700.
The longest Cup drought in the NHL belongs to hockey-mad Toronto, last winning it in 1967. The Leafs haven't even reached the conference finals since 2002, which is almost unthinkable with how important hockey is in Toronto and how that franchise prints money.
The 2017/18 Leafs set a franchise record with 105 points but were ousted in the first round of the postseason by Boston. Adding Tavares to superstar Auston Matthews and Nazem Kadri gives Toronto possibly the best group of centers in the league, and it would be almost an upset if the Leafs don't lead the NHL in scoring next year barring injury.
Losing Tavares, the No. 1 overall pick in 2009, is nothing short of devastating to the Islanders, who are now +8000 to win the 2019 Stanley Cup. The Isles have missed the playoffs the past two seasons and now seem likely to again despite adding 2018 Stanley Cup-winning coach Barry Trotz, formerly of the Washington Capitals.
The Tampa Bay Lightning had been Stanley Cup favorites and remain at +900. They also were in the running for Tavares. Tampa, which led the East in points last season but lost in the conference finals to Washington, focused on re-signing a few of its own free agents after missing on Tavares. The Lightning were the NHL's highest-scoring team in 2017/18.
The Boston Bruins, also losing out in the Tavares sweepstakes, are +950. They lost to Tampa Bay in the second round of the playoffs last season.
The Nashville Predators, the reigning Presidents' Trophy winners, have been relatively quiet in free agency and are +1100 to win the first Stanley Cup in franchise history. The Vegas Golden Knights, off the greatest expansion season in American major sports history, are +1100 to finish the job in 2019.
The Capitals are +1200 to repeat and have replaced Trotz with assistant Todd Reirden. The 2018/19 NHL season begins October 3, with Washington raising its banner that night against Boston.
Comments