Popular social casino game is about to get even more thrilling with real-time worldwide tournaments
Las Vegas, Nevada – June 20, 2018 – Playtrex, a leading developer of the next generation of social casino games, celebrated the upcoming launch of in-app tournaments for its hit game,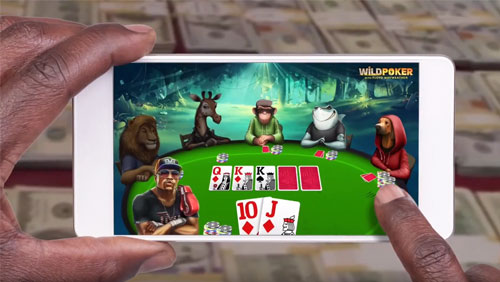 Wild Poker – Floyd Mayweather's Texas Hold'em, by co-hosting a real-world poker party in Las Vegas with Hero Digital Entertainment and Floyd Mayweather himself. Coming soon to the App Store and Google Play, the new version of Wild Poker will feature an action-packed Tournament mode in which players can inhabit their favorite animal persona and challenge other poker players from throughout the world in real-time, synchronous tournaments. To be among the first to join the tournaments, players can pre-register at http://www.playtrex.com/#contact.
In typically lavish Floyd Mayweather fashion, the Las Vegas celebration not only featured high-stakes poker action, but also plenty of beautiful models, luxurious accommodations, and unshackled revelry. A highlight reel of the event can be viewed at https://www.youtube.com/watch?v=a9NcpIZzszI.
Wild Poker has come to symbolize the next generation of social casino games with its unique blend of strategy, adventure and traditional Texas Hold'em poker. The game adds a new level of strategy and decision-making to traditional poker by allowing players to deploy power-ups based on their animal characters' innate abilities, such as the shark's sharp sense of smell to detect the weakest hand at the table, or the giraffe's elongated neck to peer over another player's shoulder and peek at their cards.
The new Tournaments mode allows players anywhere throughout the world to organize a tournament for up to six players. The minimum buy-in will be 1,000 chips, and prizes will be awarded based on a player's performance.
"We designed Wild Poker to be unlike any other social casino game ever built, and the in-app tournaments make it even better than ever," said Daniel Kashmir, CEO of Playtrex. "The game is so extraordinary that the best way to commemorate its success is to host the kind of party that only Floyd Mayweather could host. Just like Floyd Mayweather is a once-in-a-generation talent, no other game in the world puts such a unique twist on Texas Hold'em poker."
Availability
Wild Poker can be downloaded for free from: https://playtrex.onelink.me/3303570462/7e1b890e.
To follow Wild Poker on social media, visit:
About Playtrex
Playtrex is pioneering the new genre of Social Casino Adventure games. Founded in 2016, the studio is focused on developing the next generation of social casino apps by adding a level of adventure, strategy and purpose to casino-style games. Its first title, Wild Poker, puts an exciting new twist on the age old game of Texas Hold'em Poker by injecting power-ups, character development, level progression, and other strategy and adventure elements. Headquartered in Herzliya, Israel, Playtrex is led by experienced industry veterans with a strong passion for building great games. For more information, visit www.playtrex.com.
Media Contact:                           
Matt McAllister
Fluid PR
(510) 229-9707
matt @ fluidspeak.com
Comments