Another review from the World Series of Poker, this time focusing on a first bracelet win for Johannes Becker in the $2,500 Mixed Triple Draw Lowball, and a story about cock and balls. 
I'm in this play area, not a piece of plastic in sight, so you know the creators have an inkling of how to educate children. An over exuberant lad is ringing the bell above my head, another is chewing on a femur, and my daughter comes up to me with a wooden head that looks like Cleopatra.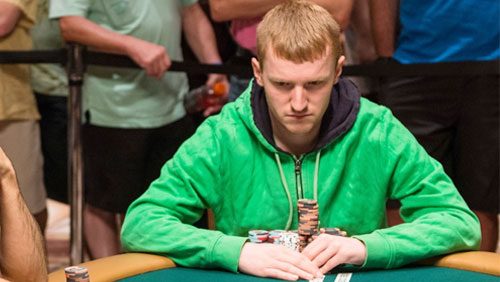 "Do you want me to draw her body?" I ask trying to calm her as she realises Cleo doesn't have one.
"Yes."
On the wall behind me is a backdrop of brown paper and a groove filled with crayons. Sticking with the Egyptian vibe, I pick up a brown one, hold the head high with one hand and draw a body with the other.
Now, the legs.
I draw two oval shapes.
"Lee, they look like a pair of balls," my wife whispers to me.
They do.
I act quickly, by removing Cleo's head, and drawing whiskers on the oval shapes. I will make them look like pussycats.
"Lee, they look like pubes," whispers my wife a little louder than the last time.
They do.
I place two circles in each oval to make them look like eyes, and then I draw a long nose in between them both.
"Lee, what the fuck are you doing?" Asks my wife, no longer whispering. "It looks like a cock."
It does, and it's about this time that I completely lose the plot in the same way I did when I first sat down in a mixed game. I drop my crayons, pick up my kid, and walk out of the door, leaving my failed Artemision Bronze painting on the wall behind me, with ten kids pointing to it, asking their parents Que és? 
Johannes Becker wins Event #8: $2,500 Mixed Triple Draw Lowball
Johannes Becker has no such worries when he sits down to compete in Mixed Games. The German star has been competing in stakes as high as $200/$400 online for as long as I have been drawing phalluses on the walls of children's play areas.
If you're thinking: Johannes Becker, that's a familiar name then it may be because last year he finished runner-up to Elior Sion in the $50,000 Poker Player's Championship banking $862,649.
So when it comes to the $2,500 Mixed Triple Draw Lowball, Becker was all-in. The only downside was the bummer of crashing out of the $100,000 without making any money. Ever the professional, Becker shrugged off his disappointment like a giraffe's tail shrugs off the flies desperate for the a-hole and won the thing.
In Mixed Draw Lowball, the goal is to get the lowest hand possible in three very similar games:
A-5
2-7
Badugi
The game attracted 321 entrants, a  35% increase on the 225 that Jesse Martin had to batter to win this competition last term.
49 players made the money, including the reigning World Series of Poker (WSOP) Player of the Year (POY) Chris 'perfect apology' Ferguson (48th), Shaun Deeb (37th), Dan Shak (29th), John Hennigan (28th), Billy Baxter (18th), Nam Le (17th), Brian Hastings (14th), Frank Kassela (11th) and Mike Leah (9th).
Becker came into the final day second last in chips with 12 remaining but he found the right moves, had the good fortune of being on friendly terms with the Poker Gods, and things worked out nicely.
The two most prominent faces on the final table belonged to Scott Seiver and Chris Vitch. It was Seiver who became the man to beat at one point looking like he would win his second bracelet with ease until Becker managed to get back into contention before a final push over the finish line found him sitting in front of a dozen cameras with an aching jaw.
"I didn't expect to win," Becker told PokerNews after securing his first bracelet.
I didn't expect to draw a cock and balls, but sometimes, shit happens man.
The result pushes Becker's live tournament earnings to the $2.1m mark, and he now has three perfect 1's on his Hendon Mob resume after winning a €25k High Roller at the King's Casino in Rozvadov back in 2017 for €500,000, and then repeating that feat in February for €320,000 more.
Final Table Results
1. Johannes Becker – $180,455
2. Scott Seiver – $111,516
3. Jesse Hampton – $71,547
4. Chris Vitch – $47,166
5. George Trigeorgis – $31,873
6. Luis Velador – $22,304
Comments