Online bookmaker guarantees to give away over £1,000,000 on the 2018 World Cup
Online bookmakers BetVictor today announced the launch of 'The Million Pound Bet', a competition -for new and existing customers – that guarantees to give away over £1,000,000 for the minimum stake of £1 at this summer's World Cup.
To celebrate the launch, BetVictor has released a brand-new TV ad campaign to promote the competition, which will air for the first time today at 21:30 on Channel 4 and again at 23:50: https://www.youtube.com/watch?v=uIs9e8bXNeE&feature=youtu.be.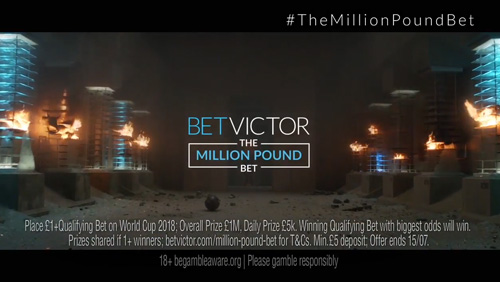 BetVictor will give away £1,000,000 to the customer who places a winning bet with the biggest odds on any World Cup market. If there is more than one winner, the prize will be shared equally between the winners.
To qualify, customers need to stake a minimum of £1 on any World Cup market. BetVictor will also backdate any World Cup bets that have already been placed before the launch.
Only single bets are eligible for The Million Pound Bet and it is possible that the winning bet will come via the company's recently launched in-house developed #PriceItUp Builder, which offers customers the ability to create a single bet comprising up to ten different factors on each individual game.
All winning World Cup bets will automatically be entered into The Million Pound Bet competition and customers will be able to track their progress on a leader board hosted on the BetVictor site.
In addition to the guaranteed £1,000,000 overall competition jackpot, BetVictor will also give away a daily prize of £5,000 to the customer who places a single winning bet with the highest odds on each of the twenty-five match days throughout the tournament. The daily prize will be shared when there is more than one daily competition winner, bringing the total guaranteed giveaway during the World Cup to £1,125,000.
The Million Pound Bet will be the second time BetVictor has given away £1,000,000 following the hugely successful Million Pound Goal campaign during Euro 2016.
BetVictor Head of Product Eoin Ryan said:
"We're incredibly excited about the World Cup which will be the highlight of the sporting year. The Million Pound Bet is the culmination of a lot of hard work behind the scenes to ensure we give customers real value and a great betting experience during the forthcoming World Cup with an opportunity to win a fantastic prize for a minimum stake of one pound.
"Our recently launched #PriceItUp Builder will be a perfect product for customers to use as they seek to create a bet that could top the leader board. Hopefully it encourages customers to trust their instinct and embrace the unpredictable."
For more information, visit or contact Anthony Avrili at anthonya@thephagroup.com or 0207 0251 350.
Terms and conditions for The Million Pound Bet competition can be found at www.betvictor.com/million-pound-bet
About BetVictor
BetVictor are one of Europe's leading online gaming companies. Digitally data-led, they provide their own in-house technologies and product development enabling them to build successful partnerships in the business-to-business space. An innovator within the industry BetVictor offer customers a simple, intuitive and personal betting experience.
Official Principle Partner of Liverpool Football Club, BetVictor also entered into a three-year partnership with Jockey Club Racecourses last year becoming headline sponsors of the feature race at Cheltenham's November Meeting.
Established in 1946, Michael Tabor acquired sole-ownership of BetVictor in 2014 having previously been a major shareholder in the business. BetVictor headquarters in Gibraltar with tech hubs in London and Budapest.
Visit BetVictor social media platforms on Facebook, Twitter and Instagram
To learn more about BetVictor visit us on LinkedIn
Comments